Nordic Nomads reflect on a great season
Mike Lawrence - Staff Writer
By all accounts, the Nordic Nomads Cross-Country Ski Club have had quite a winter, and with a bit of luck and a bit more snow, it might not be over quite yet.
Despite a stretch of temperatures above the freezing mark this month, club President Ron Laverty hopes to squeeze a bit more out of the season.
"If we get a lot of rain, that'll probably knock our trails out. But we got a pretty big base this year so if we get a little bit of rain and we get a bit more snow, we might be able to extend the season a bit."
Asked about the current state of the trail system, Laverty shared, "Trails are holding up really good actually, quite good. Best it's been in years. Its probably the most snow we've had in twenty years, so we are trying to keep all of our programming going, but we're probably going to need some fresh snow after this rain. The problem is it'll turn to ice, and it'll be too icy to ski on and be pretty dangerous. Our groomer might be able to hack up the snow and maybe make a new track, but we'll have to wait and see after the warm weather here. As long as there's enough snow on the base for the groomer to function, we'll keep it going."
Membership remains strong, especially for a community the size of Sioux Lookout, as Laverty points out.
"I think we had 240 paid members last time we looked at it about a week ago. We've actually had quite a few people coming over form Dryden to ski our trails this past week, so we are pretty pleased to see the word is getting out in the region that our trails are really good here." Laverty added, "We are part of the Thunder Bay Ski Association, and they are always amazed at the numbers we have; our membership is the second highest in Northwestern Ontario. Thunder Bay obviously being number one, but number two is Sioux Lookout. For the size of this community having over 200 members in any association is quite remarkable."
The club has added a few new signs to their trail system to mark the history of the club and recognize individuals who helped make the club what it is today.
"Sioux Lookout has always been a pretty big cross-country ski community since the 1970s, since the skiing trails were first established." Laverty continued. "I think COVID has probably helped a bit too because some of the more traditional recreational activities have been hard to do, so people look to other alternatives where you could socially distance and cross-country skiing is one of the few in the region you can do. At Cedar Bay we made a sign up there we called the founders sign, and it represents the two founders of the ski club that actually got the trails going, Stone Oslund and Mitch Palmer.
"We put up another sign on the five-kilometre racing loop. There's a hill that became known as Murray's Ball Break Hill. Murray passed away a couple of years ago and we made a sign up with a picture of him, and we put it at the top of the hill, just to commemorate his love of skiing. He had a pretty traumatic accident on this hill. The trails were quite a bit narrower, when he had his accident, and he was going down quite a steep hill when one of his skis came out of the track and got hooked around a pine tree. He ended up splitting his pelvis, it was quite painful. He had to drag himself out by his hands, like, a kilometre!" Laverty feels the new signage has been well received, adding, "Everybody seems quite pleased to learn about the history of the club, a lot of people didn't realize it's been going since, I believe, 1977. The club's come a long way. Last year was our best membership. We had 320 members."
Asked if there was any messaging the club would like to get out to the public, Laverty stated, "We still get quite a few people walking on our ski trails, so we ask that people refrain from walking them especially when the snow is really soft. It'll really trash the trails and makes it nearly impossible to groom. We are going to get more signage up this spring and into fall to address that walking issue on the trails. We had somebody out collecting firewood with a side-by-side quad a while back… It was in a really bad spot (on the trail) where they went in and dug up the trail, because you come off a pretty big hill and then you're into these ruts. I'm just glad that we got the groomer right in there so that nobody got hurt."
Laverty also wanted to let the public know that the club is having a raffle to raise funds for several projects, adding, "We are having a 50/50 draw; tickets can be picked up at quite a few businesses in town or any of the ski club membership. We are fundraising with that to help raise a building out at Cedar Bay so we can house our groomer and have a meeting room for our club members and for the Youth Ski Program."
The draw date will be May 20 at 7 p.m. at the Sioux Lookout Golf and Curling Club.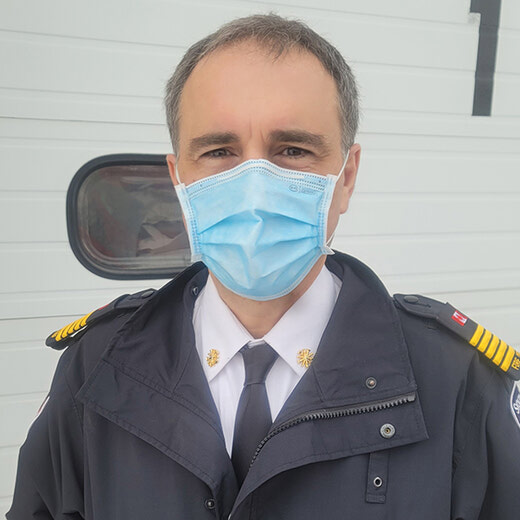 Tuesday, March 22, 2022
Bob Popovic, Chris Pollard, Jeslynn Oskineegish, and Kim Achneepineskum answer this week's question.