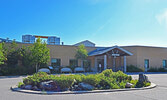 New Wellness Screening Stations at SLMHC, Ambulatory Care entrance reopens
Tim Brody - Editor
Sioux Lookout Meno Ya Win Health Centre (SLMHC) has introduced wellness screening stations at all of its entrances. The new wellness screening stations were introduced on March 28.
SLMHC shared that patients, visitors, and employees will be required to screen, or show proof of online screening at the wellness screening stations when arriving at the health centre.
"The wellness screening stations will help maintain safety practices and prioritize the health and safety of everyone at our facility," Heather Lee, President and CEO of SLMHC shared in a March 24 media release.
SLMHC shared that, to further streamline the screening process, patients and visitors can visit slmhc.on.ca/screening to complete screening online prior to arriving at SLMHC. Doing so will provide a barcode that can be scanned at the wellness screening stations to provide proof of online screening, granting access to the facility.
"In addition to continuing daily screening and adherence to personal protective equipment standards, SLMHC has its mandatory vaccination policy in place for staff, physicians and visitors. The vaccination policy for visitors/essential care partners does not apply to patients seeking care," SLMHC shared.
"We want to take this time to remind the public to continue practicing public health guidelines - get vaccinated, wear a mask and be safe," Lee stated.
SLMHC also reopened its Ambulatory Care entrance on March 28, sharing, "Those coming to the hospital for outpatient appointments, specialty clinics, day medicine, laboratory services or other services can now use the ambulatory entrance to enter SLMHC, complete the required screening at the wellness screening station, and report to the registration area. The Emergency Entrance remains open 24/7 for those coming into the Emergency Department or visiting inpatients."
People can visit https://slmhc.on.ca/about/covid-19-information/ to find out more about visitor restrictions at SLMHC and how services are impacted at the hospital by the pandemic.
Tuesday, March 29, 2022
Adelina Ernesta Durante (nee DeSordi) was born on September 28, 1923 in Nervesa della Battaglia, Treviso in the northern province of Veneto, Italy and the fourth child of Giuseppe DeSordi and Rosina Pastrolin...