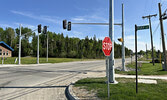 New crosswalk in Sioux Lookout scheduled to open in early June
Tim Brody - Editor
Work continues on the installation of a signalized crosswalk on Highway 72 at May Street West and Sturgeon River Road in Sioux Lookout.
The Ministry of Transportation shared that the majority of the work was completed in fall 2022 with remaining electrical components being installed this spring.
"The crosswalk is tentatively scheduled to open in early June 2023. The crosswalk will provide pedestrians on Sturgeon River Road a safe way to cross the highway to meet the Umfreville Trail," the Ministry of Transportation informed.
The Ministry of Transportation is covering the cost of the project.
Wednesday, May 31, 2023
Ontario Provincial Police (OPP) Sioux Lookout Detachment is bringing back its Positive Ticketing Campaign for another summer...