Municipal efforts to have town declared a flood area met with 'indecisive, indeterminate responses'
Tim Brody - Editor
As the State of Emergency in the Municipality of Sioux Lookout continues due to high water levels and localized flooding, the Municipality is continuing efforts to have Sioux Lookout declared a flood area.
In a phone interview with The Bulletin on June 3, Mayor Doug Lawrance shared, "We continue to make the request and seem to get indecisive, indeterminate responses from the Ministry."
He added, "Yesterday I sent a Letter to the Deputy Minister of Municipal Affairs and Housing, there is no minister now but yesterday being election day, I hope it's on the minister's desk as soon as there is a minister, outlining the dire straits many people in Sioux Lookout are in and our request to be declared a flood area so that people would have access for the Disaster Recovery Assistance for Ontarians program."
Asked about the apparent lack of response from the Ministry, Lawrance said, "My understanding is that perhaps, because of the election and the lack of a minister, maybe that's why there hasn't been a definite response."
He added, "Many people are distressed, I understand that; we understand that fully. It would give them some relief to know that that is an avenue they could pursue, to be eligible to apply to the province for disaster relief."
Painting a picture of the situation Sioux Lookout finds itself in, Lawrance remarked, "For some people, how could it get any worse? Their home's been flooded, they've been forced to move out, it's a terrible situation. For many their home is at risk, certainly the wind and the wave action doesn't help any. My observation is that the water has not started to go down… There's probably I would say 20 households that have had to leave their home and there's probably at least 20 more that are at risk and are defending their homes and then there's many more that are battling the rising water in different ways."
The high water has closed some roadways in town such as Lakeshore Drive and a portion of Ethel Street.
"Our hearts go out to all the people who have been forced to leave their homes and to people who are still battling, the Municipality is doing what it can with our limited resources to help people and protect our infrastructure," Lawrance said, adding, "We just ask everybody to be patient and understanding; what may be an inconvenience for some is a disaster for others."
Asked about having Sioux Lookout declared a flood area, the Ministry shared, "The Ministry of Municipal Affairs and Housing activated the Disaster Recovery Assistance for Ontarians (DRAO) program in Fort Frances in early May, after a flood. The program helps homeowners, tenants, not-for-profits, and small owner-operated businesses and farms with costs not covered by insurance after a natural disaster.
"The ministry is currently working to assess damage from the flood in Sioux Lookout and other parts of northwestern Ontario. We are actively engaging with local officials to assess the impacts in their communities and to determine next steps."
Lake of the Woods Control Board (LWCB) Executive Engineer Matt DeWolfe shared the following water level update on June 3, "Rainfall in the last days of May marked the 12th straight week for above average precipitation across the Lac Seul watershed, and the wettest April-May period on record. Inflow to Lac Seul also set a record for this period as well.
"The level of the main body of Lac Seul rose by 16 cm over the past 7 days and is expected to rise an additional 9-12 cm over the next 7 days. It is above the 1-in-20 year high for early June (above 95th percentile). With dry weather in the forecast, the main tributaries to Lac Seul upstream of Sioux Lookout, the English River and the Sturgeon River, should continue to fall from the very high flows still occurring. Flows through the lakes around Sioux Lookout should also be declining, indicating a possible peak in the first half of June, timing depending on the weather.
"Going forward, a return to normal summer levels in the Sioux Lookout area may take a few weeks, while the level of the main body of Lac Seul could peak by mid-June if the weather is favourable."
Last week, the Northwestern Health Unit warned of potential health risks relating to the flooding being experienced across the region.
In a June 3 media release, the health unit said those risks could include:
• Flood waters can contain pollutants such as agricultural waste, chemicals, or raw sewage. Visit Health Canada's Floods and Your Health (https://bit.ly/3auAHnE) webpage for information about the potential dangers of flood water.
• Where flood waters impact buildings, prolonged wet or damp conditions can cause mould growth.
o People who are sensitive to mould may experience allergic reactions such as asthma, and other allergy-type symptoms. Chronic or severe exposure to mould can cause symptoms like eye, skin, nose and throat irritation, headaches, poor concentration, and fatigue.
o For general information about mould and cleaning up mould, visit Health Canada's webpage on Mould (https://bit.ly/3MCu4gF).
• Flood waters can also impact private drinking water wells. If a well has flood water pooling around or over it, there may be contamination of the ground water in the well. In this case:
o Use a different source of water for drinking, preparing food, and brushing teeth; or bring water to a rolling boil for at least 1 minute before using. Please visit our Boil Water Advisories (https://bit.ly/3xlkNoy) webpage for more information.
o When the flood waters recede, take a well water sample (https://bit.ly/38XiH54) to make sure that your water is ok to drink again. Wells that have been contaminated with flood water may require
disinfection (https://bit.ly/3xgT2MW) before they can be safely used.
• Food that has been in contact with flood waters or has been stored in basements or other areas that have been flooded should be discarded, except for undamaged canned goods.
o Labels from undamaged cans should be removed, and wash and disinfect the cans before they are opened.
• Structural and electrical safety concerns can also exist when dealing with flood conditions. Please visit Canada's After a Flood (https://bit.ly/3MpYanj) webpage for more information about safely re-entering your home and cleaning up after a flood.
Anyone with questions about flood-related health risks is asked to contact the Northwestern Health Unit and ask to speak with a public health inspector.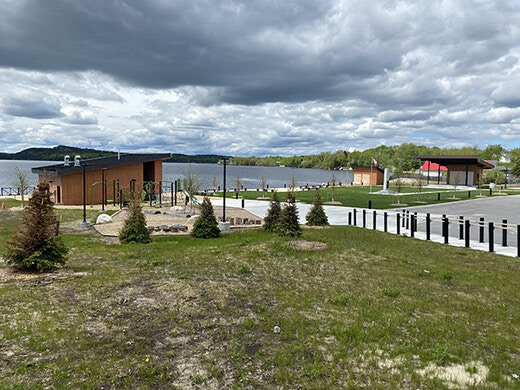 Tuesday, June 7, 2022
The Municipal Waterfront Development Project at Farlinger Park (the Town Beach) is 98 percent complete according to the Municipality of Sioux Lookout, who also shared that outdoor amenities and spaces will be open for July 1st fireworks...