Moonlight Madness 2022 a win for merchants, shoppers
Tim Brody - Editor
Moonlight Madness, a long-standing holiday shopping initiative of the Sioux Lookout Chamber of Commerce, was held this past weekend and according to participating merchants and shoppers, the initiative was a terrific success.
Eleven participating businesses took part in the event from 10 a.m. to 10 p.m. last Friday and 9 a.m. to close last Saturday.
Approximately 16 home-based businesses also took part in a Moonlight Madness Market last Friday evening in the Upper Legion Hall, which was attended by nearly 500 people.
Moonlight Madness has historically promoted shopping locally and helps people get a head start on their holiday gift buying.
Tyler and Jackie Bernier of Rock Front Family Farm took part in the Market.
Tyler Bernier said it was a great chance to build relationships with people in the community.
"We're happy to be able to supply these goods to the community all year long, and to be part of this, it's really good marketing for us. Happy to be a part," he added.
Debbie Baker also took part in the Market with her home-based Pampered Chef business.
"It's been good. It's been fairly steady. Everyone's been pleasant," she said. "I find these markets are really useful for home-based businesses. It's a really good way to get to know your community as well and a good way to see people and have people aware that you are here doing a home-based business. I'm really glad they have these," she said.
The Sioux Lookout Skating Club held a chili dinner fundraiser during the market.
Club President Kim Savoie said, "It's been fairly steady right from when it opened at 4 o'clock. We've even had some people coming over from the hockey tournament, which has been nice."
She added, "We just really appreciate all that the community does for us. To be able to serve a nice hot meal that people can take home for a reasonable price, it's win-win for everyone."
The Hub Collective was one of the downtown businesses which took part in Moonlight Madness. Owner Nate Hochstetler shared, "It's been a really good experience. A lot of people have been out and excited about shopping, getting their Christmas shopping started. It's been really good."
Cheers! Flowers and Gifts was another downtown business which participated in Moonlight Madness.
Owner Lesley Starratt said it was a good evening with a steady stream of people visiting her store. She said it was nice to see people out shopping together.
Bradley Grenier was out shopping with his mother Nancy.
He said it was nice to visit participating businesses, adding he hopes more will participate next year.
Nancy McCord went shopping during Moonlight Madness with her son Donovan.
She shared in a Facebook post, "It was so nice to be able to walk down a bustling Front Street, listen to Christmas music, enjoy a hot chocolate and shop local. There were so many people out. We loved it!"
Christine Hoey, Sioux Lookout Chamber of Commerce Past President and Treasurer, said she observed that stores were fairly busy during Moonlight Madness, adding that she received positive feedback from participating retailers.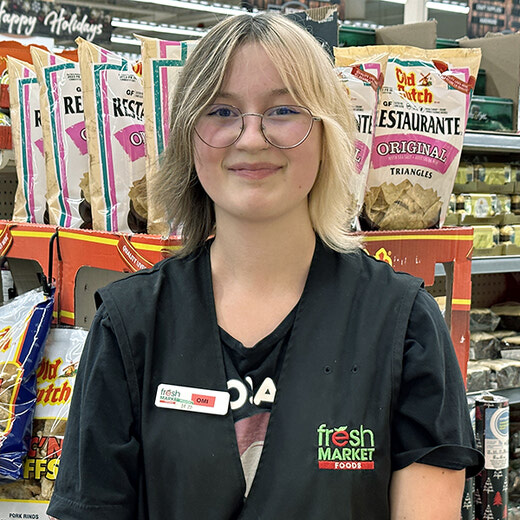 Tuesday, November 29, 2022
Omi Sakamoto, Heather Cole, Brad Mesich, and Sean Brody answer this week's question.