Memories & Celebrations: Obituary
Stella (Stefka) Carlbom

January 12, 1928 - August 25, 2023
Mrs Stella Carlbom, age 95 years passed away peacefully in Thunder Bay on the 25th of August 2023. Born on the 12th of January 1928, (the 3rd of 13 siblings), to Dora (Yawdoska Malayny) and Joseph Wavryk, in the R.M. of Hillsburg (Roblin District) MB.

Stella was born on the family homestead/farm to a second-generation immigrant family from the Ukraine, inheriting the belief that success in life is achieved through hard work. As a young girl, she never balked at farm chores, regularly helping her father and brothers on the threshing machine.

Stella was a risk taker and trailblazer from a young age. Leaving home at just 15 she began her career as a hairdresser at the Marvel School of Hairstyling in Winnipeg. One memory that mother has of this time was seeing women lining up 3 to 4 abreast down Portage Ave at Eaton's waiting to buy nylons which previously had not been available because of the war. After graduating, Stella returned to Roblin MB to register for the war (having turned 16 as required at the time). Her next destination was Thunder Bay to work at the Nu Fashion Beauty Salon in Fort William. Excelling at her new skill, her manager recommended her to Ernie Ariano who was looking for a hairdresser for his salon in Sioux Lookout. Stella's entrepreneurial nature grew, and she borrowed $500 to start her own hair salon. It was then that she met Art Perlin and began raising a family. While balancing motherhood, Stella managed the Winnipeg Tribune paper delivery for the town of Sioux Lookout for 11 years. Once again seeking a new challenge, Stella worked as an office clerk and later bookkeeper for The Welcome Motel. Again, her entrepreneurship kicked in and Stella leased the dining room at The Welcome Motel which she operated for 5 years. Journeying beyond Sioux Lookout for yet another challenge, Stella became the hotel bookkeeper at the Northwood Inn in Ignace, Ontario. She then returned to Sioux Lookout where she married Bill Carlbom.

Stella was never one to sit around waiting for life to happen, she embraced it. She loved being outdoors, fishing, gardening and blueberry picking. She traveled extensively, often driving alone across Canada. She loved spy and romance novels. Her greatest appreciation of all was her relationship with her recipe books – there wasn't a recipe that wasn't loved. Stella was a foodie; she could tell you just by taste what ingredients went into a dish whether it was homemade or at a five-star rated restaurant.

Stella continued to re-invent herself regularly, never resting on her laurels. She believed in giving back to her community and volunteered with the Catholic Women's League (CWL), Senior Citizen's Services Advisory Committee, Sioux Lookout Neighborhood Watch Program, and Salvation Army Thrift Store. She was honoured by the recognition from her colleagues at the Salvation Army Thrift Store when they organized a good-bye party as she moved to be closer to her daughter in Thunder Bay.

Mom will forever cherish the friendships she shared with Lil Donnelly, Emily Kressall and Joan DelRizzo for more than 70 years – they shared many years of raising children, socializing and growing old together. In later years they may have been apart in miles but never in their hearts.

Stella lived her life for her children who would give her the honour of being called Mom, Grandma, or Baba: Barry (Elizabeth), Don (Linda), Richard (Fabienne), Arthur (Chopper), Perlin. Cheryl Smetana, Lori Bayne (David). Her grandchildren: Arianna Nolet, Jason Smetana (Renée), Stacey, Eric, Curtis, Andrew (Abby), Alexander (Tiffany), River, and Leelou Perlin. Great grandchildren: Vember-Reigh Condie (Tanner), Frederick, Tegan and Fisher Perlin and great great grandchildren Keeghan and Sthori Condie. As well as her stepchildren and their families: Ernie Carlbom, Herb Carlbom and Cosco Carlbom.

Mothers motto in latter life was "age is a question of mind over matter, If you didn't mind, it didn't matter".

Mother was defiant, she refused to wear oxygen in public or use a cane, walker or wheelchair. Handicap parking was ok as was the power scooter at Walmart (she only used it because the nice man always saved one for her!).

Awaiting her arrival in heaven are her children Linda and Arthur, husband Bill Carlbom, Arthur Perlin (Sr.), mother Dora and father Joseph Wavryk, sisters Ann, Mildred, Irene, Marcella, and brothers Nestor, Richard, Walter, Peter, Adam, Andrew, Victor and Freddie, sons-in law David and Robert, and grandson Adam Perlin.

Stefka lived. Loved. Laughed. She will be with us forever in our hearts.

Cremation has taken place.

A celebration of life will be held in Sioux Lookout, at a later date.

The family would like to thank all of the caregivers of the Thunder Bay Regional Hospital and of the NorthWest Community Health Centre who have provided world class health care for Mother throughout her time in Thunder Bay.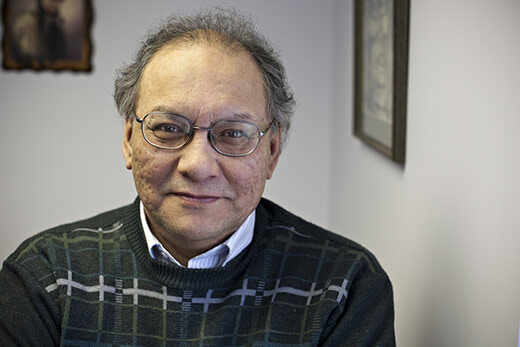 Wednesday, September 6, 2023
Sioux Lookout First Nations Health Authority (SLFNHA) bids farewell to its long-time leader. After 22 years, James Morris is retiring as CEO and President of the organization...