Memories & Celebrations: Obituary
A life well lived - Reginald Lawrence Emil Sherman

December 7, 1946 - March 10, 2022

Reg passed away peacefully with his wife Joan and step-daughter Joanne, by his side.

Reg lived each day to the fullest until his illness and faced each day head on. Reg was always positive throughout his illness, he was so very resilient, strong minded, rarely complained and above all accepted his illness and all that would follow. Even in the darkest moments he remained in control and thought about the well being of those around him. Reg crossed over with a smile on his face.

Reg worked many jobs during his younger years until he started his own business "Sherman Logging". Working in the bush was his passion and had many stories to share about his experiences. Reg moved his business to several communities over the years before settling back in Sioux Lookout. After giving up the bush life Reg worked at the Hudson Mill, Buchanan's, security at Fresh Market Foods, jail guard and then joined The OPP as a Special Constable. He thoroughly embraced all the jobs during his lifetime.

Reg most enjoyed the outdoors, fishing, camping and gardening. He was a self proclaimed "Mr. Fixit" and could repair anything he set his mind to. There was nothing Reg loved more than an interesting conversation with family, friends and coworkers. Just about everything, especially politics.

Reg leaves to mourn his wife Joan of 46 yrs, step daughter Joanne Falk Peacock, daughter-in-law Pauline Falk, grandchildren Eric McIvor, Mike Falk (Erin), Christina Weber (Andrew). Great grandchildren Abigail and Macie Falk, Chase, Lacey and Dash Weber. Sister and brothers-in-law Jacquie and Fred Southwell, Patricia and Wayne Beaudoin. Brothers Greg, Larry (Lydia), sisters Gladys, Janet, Kathy and Francine. Extended families Joanne Street-Osborn, Andrew, Kristyn, Ryan and Brady. Dean Street and José Street.

Predeceased by grandson Jamie Falk, step son John Falk and brother Mel Barber.

In keeping with Reg's wishes there was no funeral and cremation has occurred.

A heartfelt thank you to Reg's health care team. Denise his chemo nurse, he loved your sense of humour, your compassion and excellent care during treatments. Glendine, his home care nurse angel. Your care and concern and going out of your way to ensure he was comfortable at home was so appreciated. Dr. Alanna Morgan, you helped Reg enjoy his last few weeks by checking in frequently and ensuring he had everything he needed. Your kindness and professionalism helped so much. Special thank you to Kelly Wilson and Kaitlyn Negus, you both also provided Reg with what he needed to be at home. To Remedys RX, Brian and Shannon, for all your expertise in ensuring Reg had all his medications when there were last minute requests. To the Sioux Lookout Funeral Home for taking care of Reg's last wishes. Everyone was absolutely amazing and accommodating to ensure Reg had everything necessary to continue on his journey. If friends so desire, donations may be made payable to Sioux Looks Out for Paws through the Sioux Lookout Funeral Home, 128 Front Street, Box 1449, Sioux Lookout Ontario. P8T 1B9. Online condolences may be emailed to: [email protected]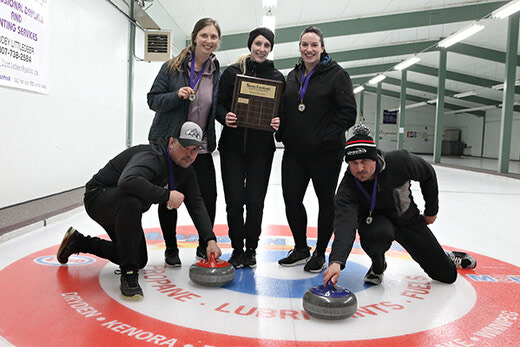 Tuesday, April 12, 2022
The Sioux Lookout Golf and Curling Club (SLGCC) was packed for Championship Friday on April 8, an evening featuring the championship games for each of the club's curling leagues...