Memories & Celebrations: Obituary
Howard Byrd Lockhart

March 27, 1937 - July 3, 2023
Howard Byrd Lockhart, a retired teacher, coach, recreation director, pilot and business owner passed away on July 3, 2023, in Sioux Lookout, Ontario in his 86th year. Howard was born on March 27, 1937, in San Antonio, Texas, and made his way north to Canada in 1966 and lived in Waterloo, Thunder Bay and Sioux Lookout for the last 48 years. Howard loved everything about the life he and Sandra built in Sioux Lookout and wanted to end his journey while still living in his lakefront home. Throughout his life, Howard cheated death more than most and earned the nickname "The Cat," given his ability to always come out landing on his feet. Howard has successfully navigated many health issues for over two decades, and in his own words, "he was playing with house money" these past few years.

Howard is survived by his wife, Sandra Lockhart, and his children Barbara Lockhart of Toronto, and her sons, Maximus and Jacob Keller and Lance Lockhart of Mesa, Arizona, his wife, Jamie Lockhart and their sons, Judah and Lucas Lockhart. Howard was very proud of his children and grandchildren. Both children followed their father's entrepreneurial footsteps. Barbara runs her own executive search business, and Lance is a Captain with Southwest Airlines and owner and artist at WyldeBryd Art. Howard and Sandy were married on October 19, 1963, and were looking forward to celebrating 60 years together this October.

Howard was tall in stature and was a larger-than-life character. Howard graduated from Brackenridge High School in 1955, where he was an accomplished athlete in multiple sports. He won an NAIA National Basketball Championship at Southwest Texas (now Texas State) University in 1960, earned a Master's Degree in Education, and began his career as a teacher. After moving to Canada, Howard coached the 1968 Canadian University Basketball National Champions at Waterloo Lutheran (now Wilfrid Laurier) University. Howard was a five-time Inductee to Wilfrid Laurier University's Hall of Fame, a member of Texas State's Athletic Hall of Honor and Lakehead University's Wall of Honour. Howard was the first President of the National Association of Basketball Coaches of Canada.

His legacy in Sioux Lookout included expanding recreation programs and facilities during his tenure as Recreation Director. He was most proud of the development of the Cedar Bay Recreation Complex. The Municipality of Sioux Lookout plans to rename the waking trail to Cedar Bay, the Howard Lockhart Trail. As the owner of Lockhart Air Service, he proudly mentored many young men and women as they pursued their aviation careers. He personally enjoyed flying for Indigenous people in remote northern communities. Howard's longest flight ever was as a passenger from Atlanta to Cape Town, South Africa for a trip of a lifetime.

Howard enjoyed riding horses, golfing, fishing, country music, Mexican food, the Toronto Raptors, the Toronto Blue Jays, flying and his family--not necessarily in that order. He was at the game when the Blue Jays won their first World Series, and this past December, he attended what would prove to be his last Toronto Raptors game.

Friends and family are invited to remember Howard in a memorial service in Sioux Lookout, Ontario, on Sunday, August 20, at 1 pm at the St Andrews United Church (Date change due to power interruption).

Donations can be made to the Meno-Ya-Win Health Centre Foundation in Howard's name to purchase an extra-long hospital bed.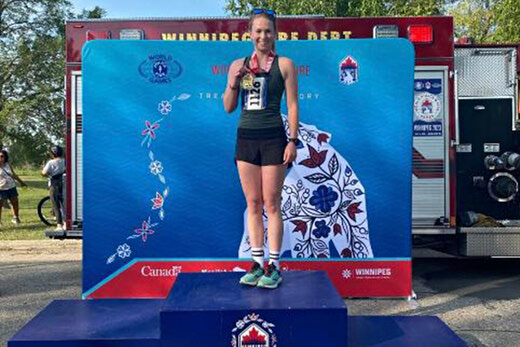 Wednesday, August 9, 2023
Two local OPP officers have had strong showings at The World Police and Fire Games, which ran from July 28 -- August 6, in Winnipeg, Manitoba...