Memories & Celebrations: Obituary
Allan Ricky Martin

May 11, 1957 - Aug 22, 2022
Allan Ricky Martin died Aug 22, 2022 with his son Jim and daughter Teri-Lyn at his bedside after being diagnosed with pancreatic cancer July 13, 2022. Ricky passed quickly with his children holding vigil at his bedside until he died. Along with Teri-Lyn and Jimmy, Ricky will be missed by his mother Marj Martin, his grandchildren Hailey, Jakson, Avalyn, Howard and Mona; stepchildren Shane (Nerina), Sheila (Bailey), Nathan (Bryanne). Sisters Debby (Rod), Shelby (Howard) and his many nieces and nephews and members of the Martin and Koval families. He will be deeply missed by his many aunts, uncles, cousins and friends. He was predeceased by his brother, Billy and father, Allan.

Ricky was born May 11, 1957 in Timmins, Ontario, the first child of Allan and Marjorie Martin. As Ricky grew up, he became a man who loved the outdoors and was a force to be reckoned with. Ricky was an avid outdoorsman; he learned at a very young age how to hunt and fish. He spent a lot of time on his grandfather's trap line and was always happiest and most comfortable outdoors, somehow it just came naturally to him. Ricky spent his early years in Timmins and, eventually moving to Ear Falls at the age of 11, where he became more familiar navigating Lac Seul, young Ricky was guiding hunters and fisherman into the NW Ontario woodlands; boating guests to and from a tourist camp at the young age of 14. He graduated from Red Lake District High School. He excelled at everything he attempted; he was a talented welder, millwright, heavy-duty equipment operator and mechanic.

Ricky moved to Pickle Lake in 1976 to work at Umex mine, this is where he met Debbie Koval. They married in 1977, welcomed their first child, Teri-Lyn January 1978 and second child, Jimmy July 1982.

Umex closed and Ricky got a job working for MTO as a heavy-duty mechanic. He worked in many remote communities in the North for MTO. The people he met and worked with in the First Nations communities made a lasting impression on him. He loved visiting all the communities; the community that touched his heart the most was Fort Severn, he said it was one of the most beautiful places he'd ever seen. Eventually, he decided to open his own auto mechanic shop and contracting company with his father Al and brother Billy. He worked endlessly building winter roads into remote areas and held a contract to build a winter road across muskeg, creeks and rivers into Bond Gold mine. He would haul freight into the mine during the winter months until the thaw set in. The road to Bond Gold eventually continued down the powerline to Bamaji Lake to get access into Slate Falls. He also worked with AJ Wing to build a winter road crossing lakes and rivers into Summer Beaver. He worked for Carter Rice as a heavy-duty mechanic and W Koval Contracting operating equipment.

Cricket met his second partner, Norma with whom he shared many years with, helping raise her children; Shane, Sheila and Nathan in Pickle Lake. They went on many adventures together, travelling across Canada to visit Teri-Lyn, Jimmy and Hailey in Kelowna.

Ricky loved his grandchildren and took every opportunity to spoil them whenever he had the chance.

Ricky would never miss a chance for an adventure, he was always planning his next hunting trip or fishing excursion and was always going out to secluded places that could only be accessed by plane or snowmachine. He portaged down many rivers and bushwacked through deep forests with absolutely no fear, just searching for the next adventure in the place that was most sacred to him. Ricky always had an exciting story to tell about his many experiences in his life.

Ricky's last trip out West was to Kelowna to visit Jimmy and then Ricky was able carry on to the West Coast of Canada to visit Teri-Lyn and Jakson in Tofino. He was in awe of the natural beauty and eagles everywhere.

Ricky's last years were spent in the Meno Ya Win Heath Centre in Sioux Lookout. Ricky kept all medical staff on their toes with his quick-witted responses to their requests. He knew many people in the hospital from working all over the North making friends with most people he met. He remembered everyone who was a hard-working employee for Martin and Sons, he would always take the time to say hello and reminisce.

We would like to thank all staff at Meno Ya Win Health Centre who gave such great care to Ricky, a special thank you to Jessie who was a friendly, familiar face.

A celebration of life will be held August 19, 2023 at 4pm in Pickle Lake, Ontario at the Pickle Lake Community Center, all are welcome. For those interested in contributing to a cause in Ricky's memory please consider donating to Ontario Federation of Anglers and Hunters (OFHA) (please click on link) https://secure2.convio.net/ofah/site/Donation2?1080.donation=form1&idb=
1652997650&df_id=1080&mfc_pref=T&1080.donation=root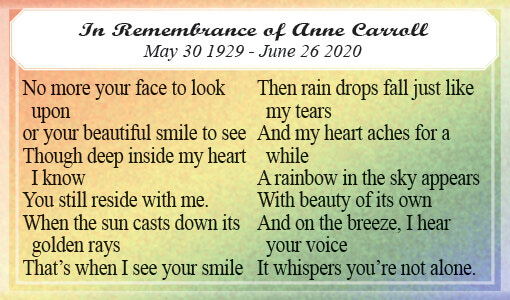 Wednesday, June 21, 2023
In Remembrance of Anne Carroll...