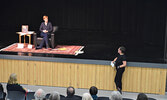 Melody Johnson sparked plenty of laughter at Entertainment Series
Jesse Bonello - Staff Writer
Canadian actress, comedian, and storyteller Melody Johnson brought humor, through a relatable topic of having bad neighbours, during her performance of Person of Interest at the Sioux-Hudson Entertainment Series on Oct. 16.
Written by Johnson, Person of Interest is described on her website as, "a topical tale, about a good, law-abiding citizen like me who hoped to volunteer in my community and so applied for a police background check. That's when I discovered I had a record and was considered a Person of Interest… courtesy of some bad neighbours next door. It was their final act of retaliation. Debuting in 2018, Person of Interest has been delighting audiences across the country. Those who enjoy the wave of stand-alone storytelling like CBC's Vinyl Café, and National Public Radio's The Moth podcasts, will crave this yarn spinning, edgy, comic tale."
Waves of laughter rippled through the Sioux North High School cafetorium throughout the performance.
"I loved it. I thought it was fabulous. It was great fun," said Aileen Urquhart.
"It was neat because, instead of her just sitting in that chair, telling her story, and being the characters, her movement flowed really well. It was a good laugh," said Linda Smith.
Johnson said she was glad to see and hear the audience enjoying the performance while being engaged in the story throughout the evening.
"Becoming different characters as one person might be a new thing for some people, so I'm glad that they enjoyed it. They seemed to really take it in… When the lights went on at the end I was like, 'Wow look at all those people!' because when you're performing you can't see anything. It was a lovely, warm reception and they were with me throughout, which was great," said Johnson.
"I'm so happy to share a new style of performance. I always want to make people laugh when I can, and it's a universal theme I think. A lot of people have had difficulties with their neighbours and it's topical too, so I think it might've been a great opportunity for them to see how you can weave something that's happening in the world today into a piece of art," she said.
When asked about performing in Sioux Lookout, Johnson couldn't help but compliment Sioux North High School's cafetorium.
"I usually play studio-sized houses that have around 200 seats and I think this was more than that, which was nice. The configuration is great too, so they're not just on the floor right there but they're way up there like a coliseum almost. It's a beautiful space and it had really nice acoustics," she said.
For more information and to see more content, Johnson suggests checking out her website and social media pages.
"People can go to my website, its www.melodyjohnson.ca. If they want to send me any neighbour horror stories, they can send them there. I'm also on Facebook and Twitter," she said.
The Sioux-Hudson Entertainment Series is hosting the Elmer Iseler Singers, which is a professional chamber choir based in Toronto, on Nov. 8.
All Shows are 7:30 p.m. at Sioux North High School.