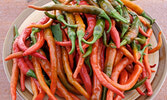 Dick's Hideaway:
A modest October weekend at our place
Dick MacKenzie - www.dickshideaway.com
Five months ago I pined for spring leaves to green up. They did and graced us with a summer of beautiful bounty.
This weekend the months of green turned to gold and dropped the little miracles everywhere. They have paved the yard, the driveway, and my deck table with next year's magic formula for another season of happy enjoyment.
I plucked the rest of this year's cayennes this afternoon, between alternating sessions of sunshine and snow. They are so charming I think I'll string a bunch to use as Christmas garlands to rekindle the joy in another season.
Each time of the year adds its own contributions and carries its goodness forward with anticipation, and showers the past with monstrous memories.