Letter to the Editor:
Sioux Lookout in the year 2122
Many Sioux Lookouters always talk about the awful economic conditions of Sioux Lookout, where many stores come and shut down, and many businesses fail. It is in my heart that I'll live to see Sioux Lookout prosper. Perhaps, we may once again have a movie theatre or another community spot. I genuinely believe that 100 years from now, Sioux Lookout will be economically valuable and more than just a fishing town. But right now, we're on the decline. I have many great business ideas, but the banks make it hard for people of my economic status to achieve something. I hope that one day, I'll be able to realize my ideas and help this Community in the process. It is time for Sioux Lookout and Lac Seul to cooperate to ensure our economic survival. If I reach 100 in 2096, I'll deliver a copy of this issue to the future mayor of this town or city.
Dorian William Wesley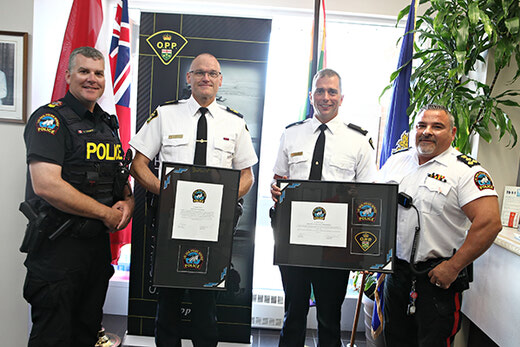 Tuesday, August 2, 2022
LSPS Chief Bruno Rossi, accompanied by LSPS Sergeant Philippe Laporte, presented Sioux Lookout OPP Staff Sergeant Jason Spooner as well as Sioux Lookout OPP Detachment Commander Karl Duewel on behalf of the Sioux Lookout OPP, with special plaques...