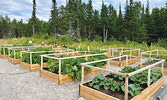 Lac Seul First Nation family shares the fruits of their labour from their community garden
Andre Gomelyuk - Staff Writer
A newly created community garden in Lac Seul First Nation flourished this summer with many fruits and vegetables harvested and given back to the community.
In the spirit of giving back Keisha Wabano and Patrick King created a community garden in Frenchman's Head, Lac Seul.
"We always wonder why other people don't try? But instead of us wondering we saw the wonderful opportunity that Nishnawbe Aski Nation provided," Wabano shared. The Nishnawbe Aski Nation program provides financial support for non-profit community start-ups for First Nations. Grace Strang, a family member who helped with writing letters to get support shared, "I believe Keisha noticed an advertisement on NAN's Facebook page regarding support for community gardens." She continued, "From there, Keisha and Patrick reached out to local community programs and businesses for donations and voila! A beautiful community garden was born."
Wabano shared how their community garden was created, "We were just in awe, and we started working together and planning our next steps. Letters were sent to different departments in Lac Seul for their support and help, we all got together and worked as a team to make it happen."
Nishnawbe Aski Nation, Lac Seul band, Perron Contracting & Rail Service and Fresh Market Foods all helped through donated items such as tools, hardware, soil, vegetables, to support the completion of installing potting beds and sowing fruits and vegetables into the garden.
Wabano and King commented, "We love seeing people up at the garden, admiring everything growing and most importantly we love the expressions on people's faces when we give from the garden." The garden's produce is shared with community members to support food security, dietary needs and with hopes of future teaching opportunities.
Wabano said vegetables grown in the garden included beans, zucchini, and cucumbers, picked earlier in the summer season, as onions, carrots, potatoes, corn and tomatoes kept growing until the end of summer. Wabano expressed, "We have shared with many elders; families and we leave some at offices too because sometimes we just have so much to give." Wabano added, "All produce grown is for anyone who asks, we also send messages out to people to see if they would like some."
The community garden started this spring. Wabano explained, "I created a Facebook page to encourage Community members to come out to help, to share the many harvests." The Facebook page is called Lac Seul's Community Garden. People with an interest in participating, as well as proposals to use the garden for alternative activities, are invited to reach out. Wabano shared possible future plans for the garden, "I would love to see teachers bring the classrooms out to come learn and see the garden. This can always be a great chance and ability for teachers to bring children from the classroom, see the garden, and learn about ecology and food security." The creators encourage others to follow suit as they said they would like to see the garden expand to the other Lac Suel communities, Whitefish Bay and Kejick Bay. "Our goals for next year are to get more people involved, expand the garden, plant more fruits, have a sign made and put up, have some teaching sessions and to just give, give, give! The Community Garden is definitely a safe place, a place to reconnect, gather and it brings so much peace and comfort," Wabano concluded.
Tuesday, October 18, 2022
A locally formed sponsorship group is looking for the community's help as they prepare for the arrival of a persecuted family they are sponsoring. The family is expected to arrive sometime between December and February...