Kids Kaleidoscope Entertainment Series hosts family dance at the Town Beach
Tim Brody - Editor
The Kids Kaleidoscope Entertainment Series hosted a party for families on August 1 at the Town Beach.
Complete with music, free hotdogs, soft drinks, freezies, and snacks, as well as giveaways for kids, Kids Kaleidoscope President Dorothy Broderick shared that the event was about giving back to the community.
"We've been receiving our regular funding through the Canadian Arts Presenters Fund and through Ontario Arts Council, and we haven't had any seasons to spend money on (being unable to run shows due to more restrictive COVID-19 public health measures earlier in the pandemic.). We need to spend some money and we thought what better way than celebrating Blueberry's 40th by throwing a big, huge party. It's nice to be able to hire a local entertainer – DJ Slipper-E (Jason Bailey) of Volt Entertainment, to come out and when I talked to Jason from Volt Entertainment about it, he was so excited and enthusiastic, so we just thought, let's do it down at the beach and we'll buy everything, make sure families have an affordable and accessible event," Broderick commented.
Broderick said the committee needed some help to run such a large event, so a group of parents was hired to run a BBQ during the family dance, "By hiring them it also adds to giving back to the community, that's part of our mandate, making sure we're being a good member of the community, so having them helps the students and helps us and everyone benefits."
Broderick shared that the Kids Kaleidoscope Entertainment Series is looking at hosting three shows over the winter season.
As details are firmed up, Broderick said they will be shared on the group's Facebook page.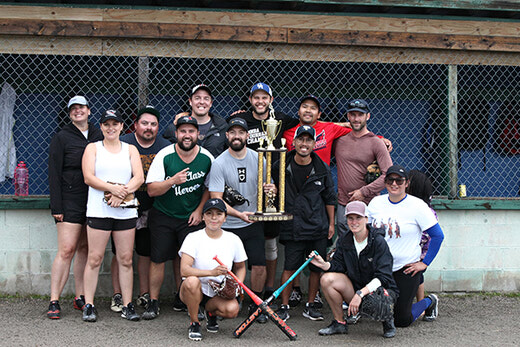 Tuesday, September 6, 2022
Twelve teams took part in 3D's 2nd Annual Baseball Tournament, held July 30 and 31 at the ball diamonds during this year's Blueberry Festival...