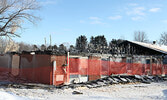 KDSB provides update following Patricia Plaza fire
Tim Brody - Editor
The full extent of the damage to Patricia Plaza following the fire which broke out at the seniors complex on Feb. 4 is still being assessed and the Kenora District Services Board (KDSB) is working to ensure the safety of the building, building air quality, and fire damage restoration.
The fire was contained to one wing of the building resulting in the loss of 11 apartments. The remaining 26 apartments have been saved.
Henry Wall, Chief Administrative Officer for the KDSB, shared with the Bulletin last week, "Making sure we get an environmental assessment team in to make sure that at least from a carbon baseline that the tests come back safe, that it's safe for residents to go back in. So those things are being done and they're going to take a few days to get done. The other piece too is that doing updates or putting a new fire panel in, just with the fire and so forth, making sure that we don't risk any existing fire equipment that's there... So those are some key pieces that we need to put in, get addressed, before we can move anyone in. There are a number of units that may just need some cleaning and so forth, and then they should be ready to have residents move back in. Others, they're just with respect to the fire suppression, had sustained water damage. There's some units where we will need to go in, cut some of the drywall out and replace that, just to make sure things have a chance to dry out and we don't risk mould from growing."
Wall said he hoped some people would be able to return to their homes within a week or two, noting that each unit will have its own timeline for when it can be brought back into service.
"Of course, the 11 units that we've lost, that we begin plans to rebuild those and of course that's going to take quite a bit longer to rebuild that many units," he shared.
"Of course, we have those 11 units, six seniors, that we will need to work to find long-term alternative accommodations. It's going to take quite some time to get those units rebuilt," Wall said.
Speaking to the supports KDSB has in place Wall explained, "KDSB had a number of units in the community that we're in the process ready to be offered for others to move in, so we are utilizing them as temporary accommodations for the seniors. We had a couple seniors who were able to move into the Sioux Lookout Supportive Housing Program. We have seniors that are being supported at one of the hotels in the community. Families have really stepped up and a number of the seniors are staying with their families and their grandkids, sons and daughters, so everyone has a place right now, which is really good. Part of the next piece is the longer term support. We have some seniors that will be able to move in, opened in the next two weeks."
KDSB shared in a Feb. 9 news release, "Some tenants will be able to return to their units in the short-term, while other tenants will be displaced for some time or permanently."
Wall said he was amazed at how quickly Sioux Lookout as a community has come together to support the impacted seniors, "We have clothing being donated for seniors that have lost everything, or they may not be able to get into their units. We have Giant Tiger and Fresh Market (Foods) helping with food and donations where they can. You have church groups like Calvary Baptist really stepping up and helping support seniors and the family too, through this very stressful time. Leave it to Sioux Lookout to demonstrate what the true spirit of the north is, working together and supporting each other through this very difficult time."
Wall added, "We do know the immediate need is monetary, to have food security and clothing, so those are some items that are really important where we can certainly use the community's help. We have the Salvation Army and the Sioux Lookout Food Bank stepping up to help out with that and off course also at 5 Mile Corner accepting donations."
KDSB shared in their Feb. 9 media release that, "Monetary donations via cheque can be dropped off at the following locations, or E-transfer:
• Calvary Baptist Church, 34 Prince Street, 737-3293
• Cornerstone Christian Fellowship, 36 Fourth Avenue, 737-3839
• New Life Assembly, 28 First Avenue, 737-2843
"Monetary donations received by the Sioux Lookout Food Bank will be used towards food hampers and personal items for affected tenants of Patricia Plaza.
"Please make cheques payable to: Sioux Lookout Out of the Cold Program or E-transfer to: [email protected].
"If you E-transfer funds and wish to receive a Charitable Receipt, please include your Name and Address in the comments section with your E-transfer.
"The Salvation Army at 13 Robert Street will be accepting clothing donations and facilitating shopping days for affected residents.
Donations can be dropped off in between 10:00 am – 4:00 pm, Tuesdays-Saturdays only."
"We are immensely grateful that all residents of Patricia Plaza are safe and have had their immediate short-term needs met. The community and area have really rallied together to support those who have been affected. The KDSB and community partners are continuing their work to assist residents of Patricia Plaza. Additionally, I want to thank the families and friends of displaced tenants as their support have been invaluable," Wall said.
Wall praised Sioux Lookout's first responders and everyone who has stepped up to help, "Sioux Lookout's fire department did an exceptional job at helping contain the fire and make sure it was addressed quickly. The OPP in terms of helping with evacuations, paramedics again help with evacuations, supporting individuals and then really as all this was happening it's the middle of winter. It was cold. So to have Calvary Baptist Church open up their doors, Sioux Lookout Non-Profit Housing opening up their doors… it was so appreciated. We couldn't have done it without the community."
The Municipality of Sioux Lookout also thanked the community for their support in a Feb. 7 news release. Sioux Lookout Mayor Doug Lawrance noted, "Our thoughts are with those that have been displaced by the fire," adding, "11 apartments were affected by the fire but thankfully the other 26 apartments in the complex were saved through the efforts of our dedicated fire fighters – and no injuries were reported."
The Municipality stated it would like to recognize the following for their assistance on Feb. 4:
• Sioux Lookout Non-Profit Housing, who opened up the common area at Sioux Towers so people from the plaza had a place to go;
• Calvary Baptist Church and New Life Assembly Church, who provided food for the Residents and Emergency personnel;
• Red Brick Café, who provided coffee for the firefighters;
• KDSB, who worked on providing accommodations for the displaced residents;
• Lac Seul Fire, for offering assistance if required;
• Sioux Lookout OPP, for their assistance and traffic control around the scene;
• EMS who were on standby to deal with any health issues arising from the fire; and
• To all of the individuals and families that provided food, assistance and items to the displaced residents and to the emergency personnel.
"It is incredible to see how quickly our community can pull together in an emergency," said Emergency Services Manager/Fire Chief, Rob Favot. "We are truly grateful for the outstanding show of support from the businesses, organizations, and individuals who rushed in to help this weekend."
The cause of the fire remains under investigation, but no foul play is suspected at this time.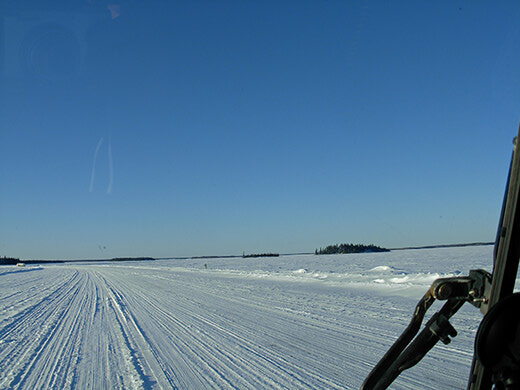 Wednesday, February 15, 2023
The provincial government has announced $6 million to help 32 remote First Nation communities and the Town of Moosonee build and operate 3,200 kilometres of temporary winter roads for the 2022-23 season...