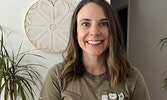 Kaitlin Negus recognized with Northern Ambassador Award
Tim Brody - Editor
The Northern Ontario School of Medicine University (NOSM University) has selected Kaitlin Negus, a Clinical Dietitian at Sioux Lookout Meno Ya Win Health Centre (SLMHC), as this year's recipient of the Northern Ambassador Award.
NOSM University describes the award, "A preceptor who is recognized for being a strong ambassador for their community, and who creates a welcoming environment for learners of all disciplines."
"It's nice to feel recognized. I just tried to create the most well-rounded experience for the learners that I've had, and they appreciated it," Negus said. "It's really nice. I feel very appreciative."
"SLMHC has hosted NOSM University learners for many years, and we're always happy to hear how much they enjoy their time both at SLMHC and in our wonderful community. Our mentor staff members play an important role during their time here, and we're very proud of how Kaitlin has recognized SLMHC and our community," shared Dean Osmond, Acting President and CEO of SLMHC.
"SLMHC has been hosting NOSM University learners since 2007 for their Comprehensive Community Clerkships, where they gain experience at SLMHC and in northern communities' nursing stations. Negus, who has worked at SLMHC for seven years, has been mentoring NOSM University students for one year. Negus says she enjoys sharing her knowledge with students, and exposing them to the unique environment of northern healthcare," SLMHC shared in an April 17 media release.
"I've learned a lot from mentoring. I've had two students so far, and I'm excited to work with more in the future," she said. "It's been really interesting and fun. It's nice to give back… Our hospital is probably one of the only ones in Ontario that can offer the type of northern experience that we can offer. Our learners really enjoy coming here because you can get a taste of what it means to be a jack-of-all-trades and be knowledgeable in a lot of different areas."
"It's really important for students to see the differences in access to healthcare. I think it helps to create knowledge on other professions because you need to lean on lots of people around you to sometimes get patients what they need. Sometimes this happens in unconventional ways too, so I think there was a lot of eye-opening experiences for the students," Negus said. "When you're in a larger area, there's different floors or wings for all the specific cases they see. We see a lot of different things here. One day we might be involved in a swallowing assessment, then a pediatric case in the afternoon, and the next day we head over to extended care to see our elderly patients who are in Long-Term Care. It's a well-rounded placement, and it's been really neat to show people that," she explained.
Being from Sioux Lookout, Negus said, "It makes me happy whenever people show an interest in coming here… I'm always excited when people want to come to Sioux Lookout to learn."
"My first student came here for five or six weeks in the fall, and she liked it so much that she came back for a four-week placement to finish off her internship. She really enjoyed this type of health care here… Anytime people from NOSM University are interested in coming here, I think it's so great," Negus concluded.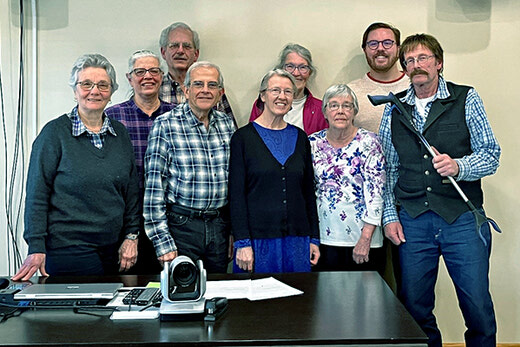 Tuesday, April 18, 2023
Karl, Susan, Bill, Merle, Edith, Corinne, Jennifer (and soon Komal) have for years quietly gone around town clearing our streets of litter. With Earth Day on April 22, the Municipal Environment Committee decided it was time to honour these folks...