Hudson remembers
Hudson and area residents gathered at the cenotaph for Remembrance Day services on Nov. 11.
The service, organized by members of Candlish Memorial, Branch #139, Royal Canadian Legion in Hudson, was led, for the 42nd consecutive year, by Master of Ceremonies Reg Drew, Medal of Military Merit (MMM), Canadian Forces Decoration (CD) and included a parade led by the colour guard, the singing of O Canada and God Save the King, the playing of the Last Post, two minutes of silence followed by Reveille, and the laying of wreaths.
A luncheon of chili and stew with rolls, sandwiches and roast turkey followed the service.
Legion President Bob Starratt shared after the service, "We had an exceptional Remembrance Day in Hudson. For the first time in many years the temperature was moderate, the wind was light, and we weren't in the middle of a snowstorm. The turnout was incredible." Starratt estimates that easily over 100 people attended the service.
Starratt noted, "Ellyn Bernier asked that a wreath be laid honouring her father Barney Pinkess, a long time Hudson resident and veteran of World War I, serving in France. That wreath was laid by Barney's grandson Todd, son of Gerry Pinkess and nephew of Ellyn's. We were without Sylwester Kiepek, a long-time resident of Hudson and past Legion President. His passing has left a huge void in the community. We also lost Legion member Bev Fairbairn who had turned 100 just prior to last year's Remembrance Day service. She passed soon after that."
After many years of laying a wreath in honour of Memorial Cross Mothers, Mrs. Edna Drew passed the responsibility for laying the wreath to Hudson resident Lynn Bouchard, whose son Dan has been in the Canadian military for many years.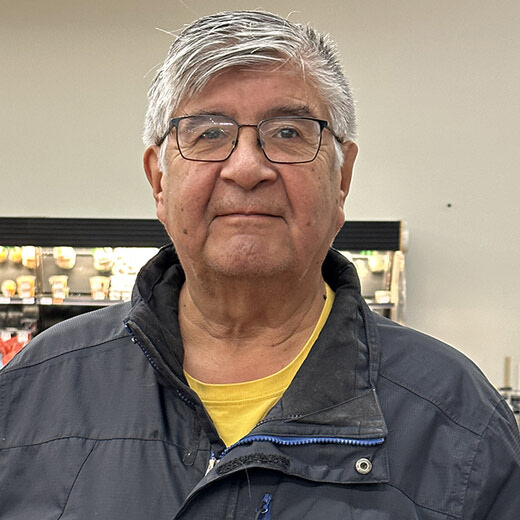 Wednesday, November 15, 2023
Tom Chisel, Tim Yewchyn and daughter Charli Yewchyn, Andrea Cospito, and Harpreet Kaur answer this week's question.