High water levels impacting some local boat launches
Mike Lawrence - Staff Writer
With walleye season underway as of Saturday, May 21, people may be wondering the best place to launch watercraft, given the state of high water levels across the region. A media release issued by the Municipality of Sioux Lookout on May 18 informed that municipal staff are monitoring the situation daily, adding that docks will be put in as soon as it is safe to do so at each launch location. The Municipality noted in the release that docks are installed, or plan to be installed by the end of the day on Friday May 20 at the following locations: Boat Bay; Botham's Bay; Deception Bay; Sturgeon River; and West Hudson.
The boat launch at Superior Junction is accessible but water levels are extremely high, placing the ramps underwater. It is recommended this location be used at your own risk only.
The Five Mile boat launch is considered to be extremely unsafe and should not be used. As of May 18 the ramp at this location was underwater with water covering a section of the parking lot.
The docks at West Point Cove are in but barricaded off as a safety precaution. While it is possible to use the ramp at this location, extreme caution is urged.
The Municipality notes that it will advise the public once boat launch passes become available. Once available, passes can be purchased at the Sioux Lookout Recreation Centre front desk, or various businesses in the area, with a full list of vendors available at https://bit.ly/3wFknI6.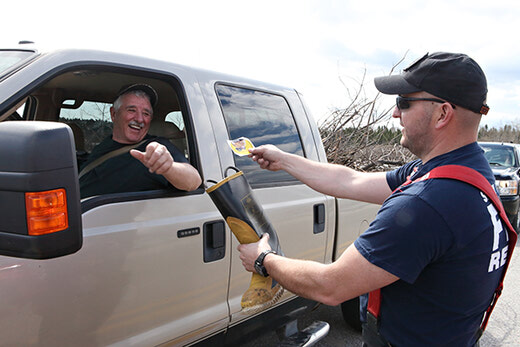 Tuesday, May 17, 2022
Thanks to the generosity of the community, Sioux Lookout firefighters collected $4200 through their annual Boot Drive for Muscular Dystrophy Canada (MDC)...