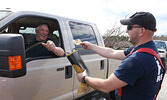 Giving generously
Thanks to the generosity of the community, Sioux Lookout firefighters collected $4200 through their annual Boot Drive for Muscular Dystrophy Canada (MDC).
Firefighters collected donations on May 14 from 10 a.m. to noon at the CN underpass and Front Street and at the intersection by the Travel Information Centre and Ed Ariano Bypass.
#FillTheBoot is MDC's largest fundraising event of the year and this year's total collected in Sioux Lookout was the highest raised locally yet.
Pictured: Firefighter Jeremy Funk thanks Ernie Seguin for his donation.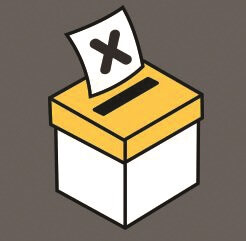 Tuesday, May 17, 2022
Voters will head to the polls on June 2 and five candidates have stepped forward in the Kiiwetinoong riding looking for your vote....