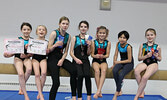 Gymnasts find success at recent competition
Tim Brody - Editor
Nine members of the Sioux Lookout Gymnastics Club competed at a competition in Red Lake on Dec. 10 where they showed off their skills and came home with ribbons, certificates and medals.
Sara Sakamoto, coach and club president, shared, "For all the girls expect one it was their very first competition, so there were nerves, but everyone did very well. We had a few first-place finishers and overall. I think we had fun and want to do it again, so I would say that's a success."
This was the first competition the club had attended since the start of the COVID-19 pandemic.
Sakamoto said the nine girls, who are level 1 and 2 gymnasts in the club's advanced group, showed off their skills on the beam, bars, floor and vault.
Gymnasts said they had a great time.
Sydney Brazier said, "I found it really fun and everybody did a great job."
Kenzie Dinsmore shared, "It was fun. I was nervous at first but then once I got to the competing it was not that bad."
Addley Dinsmore agreed competing was fun.
Sunny Sakamoto also had a great time and said she enjoys bars the best.
Avery Sakakeesic also had fun and enjoys the bars best.
Dani Hagen said competing was fun and she is enjoying being a gymnast.
Olivia Gaudry said of competing, 'I think it was fun but also really scary at the same time."
She said she enjoys all four disciplines, bars, beam, floor and vault.
Also attending were Julie Cole and Makayla Hoftyzer.
The club has approximately 85 gymnasts from kinder gym to rec jr, rec sr, and the advance class and its classes are currently full.
Sakamoto said the club could always use more volunteers. Anyone interested can reach out to club through their email
[email protected], or through their Facebook page.
The club is slated to attended two more competitions in April, one in Kenora and another in Dryden. The club hopes to be able to bring a competition back to Sioux Lookout in the future.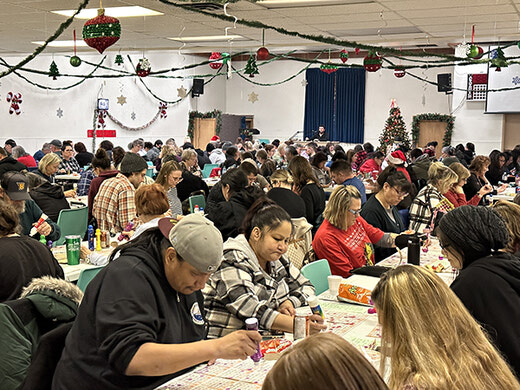 Tuesday, December 20, 2022
One-hundred fifty-eight people attended the Holiday Bingo on Dec. 14 in the Upper Legion Hall, which was put on by the Legion Ladies Auxiliary...