Great day of fun, camaraderie at annual Knobby's Memorial Funspiel
Tim Brody - Editor
A long running holiday tradition in Sioux Lookout continued on Dec. 27, with 10 teams taking part in the Knobby's Memorial Funspiel at the Sioux Lookout Golf and Curling Club.
Veteran curler Knowles McGill said the event has been running for approximately 50 years.
"Knobby Clark started it a long time ago. Before that, it was a family spiel. Beth and Bob Hendry started the family spiel, I would say, 50 years ago, and Knobby turned it into the Knobby Spiel, I'm guessing about 30 years ago. I've played in most of them," he shared.
"It's just a fun thing with family," McGill added, further stating, "What I like the most is to see folks coming home to Sioux Lookout from all over Canada or the world, and coming and playing in this, which is just for fun… you see young people, old people, families, kids coming back, grandkids."
Event participants said they had a great time.
Jaimee Curtis shared, "It's fun. It's nice to come out with friends and family. There's no pressure and Austen's done a really good job of introducing these fun, crazy rules this year, so it kind of is anyone's game this year."
Dori Hopko said what she enjoys about the event is, "I think it's getting together with family and friends that you haven't seen in a while, so it's a nice way to spend time with people that you know, as well as meeting new people who have come to the community."
"Fantastic event," Peter Breton said. "It's a fun family day," Laurie Breton agreed.
Team Bergman took first place in the Funspiel. Amanda Bergman said she enjoyed seeing the wide range of ages take part in the event. "It's nice to see that there's more people getting interested in curling. It's a day of fun and it's nice to see families get together and do something for the holidays," she said.
Teammate Monique Mousseau said what she enjoys about the event is, "Just the family and the camaraderie. It's more of a fun day. It's great to just relax and enjoy everybody's company and have fun."
Club Manager Austen Hoey said, "It was a great day. Everyone seemed to have a good time."
One end per game teams had to draw from an envelope containing random rules which they had to follow that end.
"I started it last year as well… Whether it was you had to use a stick, or curl with the opposite hand, or you weren't allowed to sweep, a couple things like that just to keep it interesting. A lot of experienced teams come to play, but also there's teams just looking to have fun, so the fact that this kind of allows the fun teams to still have fun when they're playing the more experienced teams, and then it makes the more experienced teams have to think outside the box because they're used to curling the same way they have been for years," Hoey explained.
Each team played four games during the Funspiel. Teams were then ranked one through ten based on their wins and losses. Playoffs then took place to determine overall event winners.
Team Van Horne finished second. Team Favot was third, and Team Breton was fourth.
Hoey thanked curlers for taking part as well as Knobby's Fly-In Lodge and Outposts for making a contribution to the event in memory of Knobby Clark to help pay for lunch and prizes.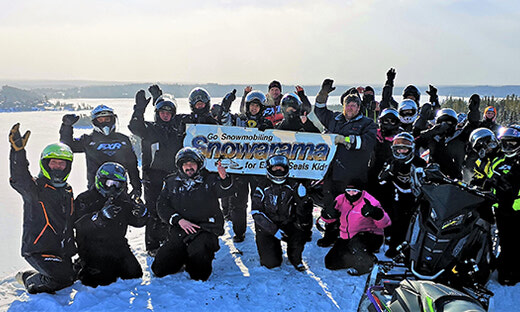 Tuesday, January 3, 2023
A day of fun snowmobiling, meeting new friends, and exploring the area and taking in its wonders; all while supporting children with physical disabilities... is what's in store for participants on this year's January 28 fundraising ride...