Fundraising evening helps local sponsorship group meet its fundraising goal
Tim Brody - Editor
A fundraising evening on March 4 has helped the Galatians 6:10 Refugee Sponsorship Group meet its fundraising goal to sponsor an Iranian family fleeing religious persecution.
The Sponsorship Group hosted a spaghetti supper at Sioux Mountain Public School, which also included a silent and live auction.
Sponsorship Group core committee member Merle Burkholder explained, "Right now we're raising money for a refugee family from Iran, that fled to Turkey. So ,this money will go towards that Iranian family's sponsorship. We have two other families that are coming but we already have the funding for those families. We have a couple with no children that's coming, they're travel ready. They're just waiting for the government to buy their tickets to come, so they should be here March or April. They're in Bangkok, Thailand now. They're from Pakistan originally. They should be coming in the next six weeks.
We have a widow lady with four children that probably will be here later this year or early next year.
The Iranian family will probably come in 2025."
Each of the families is fleeing religious persecution.
The Sponsorship group needed to raise $55,000 to sponsor the Iranian family.
Looking back on the evening, Burkholder shared, "I feel really good about it. I think we had a really good auction, people participated well. I was really happy."
Burkholder estimates 100-125 people attended the event.
"Thank you to everyone for your participation," Burkholder concluded.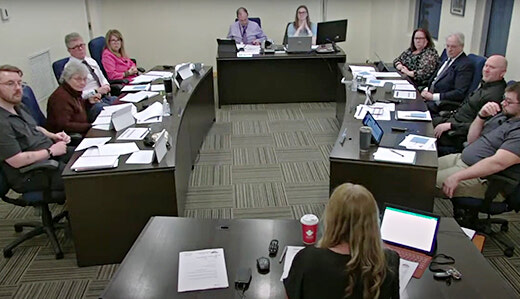 Tuesday, March 7, 2023
Municipal Council has approved the 2023 Municipal Budget with a 1.7 percent tax rate increase to fund the Operating Budget and no increase to taxes to fund this year's Capital projects...