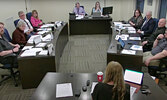 2023 Municipal Budget approved with 1.7 percent tax rate increase
Tim Brody - Editor
Municipal Council has approved the 2023 Municipal Budget with a 1.7 percent tax rate increase to fund the Operating Budget and no increase to taxes to fund this year's Capital projects.
Staff had originally proposed a four percent tax rate increase, with Council asking staff to find savings and bring that number down to 2.9 percent or lower.
The 2023 Municipal Budget contains a total Municipal Operating Budget of $35,534,783.
The total Capital Budget comes in at $15,929,353 for 2023, which breaks down as $3,284,873 for new capital projects and $12,644,480 for 2022 capital projects brought forward to 2023.
Staff were able to find funding for the new capital projects through long term debut, reserves, government grants and subsides, MAT Tax, and user fees.
Municipal Treasurer Carly Collins informed Council at the Feb. 27 budget meeting the 1.7 percent tax rate increase would result in a $121.96 increase for the average residential single-family home.
"I can say that looking around the table I would say the entire council was pleased with it," Sioux Lookout Mayor Doug Lawrance said of the 2023 Municipal budget which was presented.
"I think the majority of people anticipate, understand, and expect that there would be a tax rate increase on an annual basis, commensurate with other increases. Labour rates increase and labour forms more than half of our budget. Inflation carried on and inflation recently has been much greater than two percent, so in some ways you say this is almost a negative increase and then all the extraneous factors that we have no control over, inflation for one… outside costs for outside agencies have only gone up recently so that's good. The change in divesting Daycare to KDSB (Kenora District Services Board) has had an impact on our budget, which is good and had a positive impact on Daycare as well, I think. Policing costs (which recently decreased by five percent) between the first draft and final draft, gained us about a percent of tax rate, which is good. That was really helpful in achieving the goal of Council… I think rearranging some of the capital projects and how they were financed played into this as well," Lawrance said.
"I think it's an excellent budget overall that keeps us moving forward. We recognize that our taxes are about the highest regionally for various reasons, it's been policing costs, our unique conditions here, but this I think puts us at a lower rate increase than most of the municipalities in the region so it helps to bring us, step by step, more into the average," he added.
"I just want to thank staff for their work in getting us here and that Council truly appreciates the budget that was presented and we think it's very fair for the Municipality," Lawrance concluded.
Tuesday, March 7, 2023
Three local churches in Sioux Lookout are leading the charge in the battle against food insecurity within the Municipality.
The three churches have been operating the community's food bank since late October...