Fundraising BBQ
The Sioux Lookout Lions Club held a fundraising BBQ on July 30, during this year's Blueberry Festival, to raise funds for the 2023 Canada Day Fireworks and Festivities and the Lions' Bursary for Sioux North High School.
Pictured from left in the group photo are Lions Chris Larsh, Caroline McIntyre, Linda Melnichuk, Mike Lalonde, Syrena Lalonde, Tracy Goretzki, Bev Piché, and Clifford Goretzki.
Also pictured, Lions Clifford Goretzki and Caroline Melnichuk pose for a photo with Blueberry Festival mascot Blueberry Bert.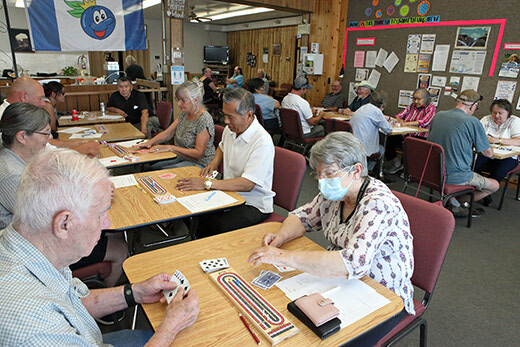 Tuesday, August 23, 2022
Twenty-two players took part in the Blueberry Cribbage Tournament hosted by the Sioux Area Seniors Activity Centre on July 30...