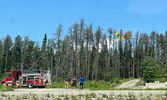 Forest fire near Sioux Lookout quickly extinguished
Tim Brody - Editor
The Ministry of Natural Resources and Forestry's Aviation, Forest Fire and Emergency Services (AFFES), as well as the Sioux Lookout Fire Department acted quickly to put out a forest fire which had sprung up approximately one kilometre north of Sioux Lookout on June 15.
AFFES Fire Information Officer Chris Marchand said the Ministry first became aware of the fire at 1:30 p.m. By 2:20 p.m. the fire was being held. By 3 p.m. it was under control and by 5 p.m. it was declared out after burning 0.3 hectares.
Marchand shared, "AFFES responded immediately with an Initial attack crew in a helicopter who requested waterbomber support. A second MNRF crew was dispatched by truck to the scene where they were joined by members of the municipal fire department."
Sioux Lookout Fire Chief Jeremy Funk said the fire was located behind (north and west) the Meno Ya Win Health Centre/Hostel (JMK 1), and the Boreal Trails Subdivision.
He said the Sioux Lookout Fire Department had three trucks and crews on scene.
"The Fire Department's role is primarily supportive in nature, as the MNRF crews are better equipped and structured for that type of call, in that location," he explained, adding, "We assisted the MNRF as requested, including deploying supply hose to the MNRF crew and with the delivery of water via a fire hydrant."
The cause of the fire is under investigation.
AFFES shared in their June 18 evening update that as of the time of their report, there were 33 active fires in the Northwest Region. Eight of these fires are not under control, three are being held, five are under control and 17 are being observed.
AFFES shared of the following "Northwest Fires of Note:"
Sioux Lookout 7 is located north of Cat Lake First Nation and is 16,002.79 hectares in size. Hose lines have been established on the southern end of the fire while the northern section is being monitored. The fire remains not under control.

Nipigon 13 is located west of Ogoki Lake and is 3,077.3 hectares in size and not under control. Values assessment and protection in ongoing in the area.

Nipigon 19 is located northwest of Ogoki Lake and is 444 hectares in size and not under control. Crews continue to establish hose lines while helicopter bucketing operations and heavy equipment provide support. Waterbombers also provided support yesterday.

Red Lake 28 is located 50 kilometers north of Lac Seul First Nation and is 4,238.65 hectares in size and not under control. Values assessment and protection are ongoing.

Red Lake 32 is located 20 kilometers West of Poplar Hill First Nation and is 387.8 hectares in size. The fire is being observed and is located on an island. Ignition opportunities continue to be evaluated to bring the fires edge to natural boundaries.

Due to the extreme forest fire hazard, AFFES noted in their June 18 evening report that the Restricted Fire Zone declared by the Ministry of Natural Resources and Forestry for the entire fire region of Ontario (Zones 1 to 36) remains in effect.
AFFES noted, "Restricted Fire Zones help protect public safety. Open air burning, including campfires, is not permitted within the boundaries of a Restricted Fire Zone. Portable gas or propane stoves may be used for cooking and warmth BUT must be handled with extreme caution. All burning permits are suspended."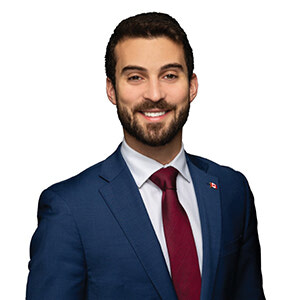 Wednesday, June 21, 2023
As fires continue to burn in the region, I am keeping everyone in communities near a forest fire in my thoughts. I thank the crews working tirelessly to fight these fires...