Report From Parliament Hill
Eric Melillo, MP, Kenora Riding
Dear Constituents,
As fires continue to burn in the region, I am keeping everyone in communities near a forest fire in my thoughts. I thank the crews working tirelessly to fight these fires. The Ontario Ministry of Natural Resources and Forestry continues to have a Restricted Fire Zone across the region. Please adhere to these restrictions to help minimize the chance of a wildfire starting.
Pilot Flight and Duty Time Regulations
After hearing many concerns about the new flight and duty time regulations from pilots, tourist operators, and Indigenous communities, my Conservative colleagues and I wrote to the federal Minister of Transport to call on him to review the regulations and change the one size fits all approach that has been imposed on service providers.
These new regulations are having a particularly negative impact on operators who serve northern and remote communities, especially First Nations dependent on air transport for essential goods and services. They are also adversely impacting the northern tourism sector, notably fly-in hunting and fishing lodges and camps as well as the mining, forestry, and energy sectors.
As a direct result of these new regulations, there have also been documented cases of medevac services being grounded, risking the lives of critically ill and injured Canadians. There are simply not enough pilots to comply with the new rules nor is there any way to fast track the training of new pilots to allow companies to hire them to meet the new requirements.
Confusion over the new regulations has even hampered efforts to fight wildfires where aircraft play a vital role in waterbombing, moving supplies, and medical evacuation.
Conservatives are calling on the federal Minister of Transport to simplify the process that allows service providers to develop their own Fatigue Management System, clarify the regulations surrounding the use of aircraft in fighting wildfires, and significantly reduce Transport Canada's processing times to licence pilots while respecting the need to ensure the safety of pilots, crew, and passengers.
Nominations for the Veterans Ombud Commendation
The Office of the Veterans Ombud has opened nominations for the Veterans Ombud Commendation. This award goes to individuals or organizations who have made outstanding contributions to Canada's Veterans and their families. If you know someone or a group who fits this description, you can nominate them by visiting the website: ombudsman-veterans.gc.ca. Nominations must be submitted by Friday, June 30.
Working for You
If you're planning to be in Ottawa and are interested in attending Question Period or taking a tour of Parliament, please let me know and my office can help reserve Question Period and tour tickets.
As always, if there is anything my office can assist you with, please call me at 807-223-2182 (Dryden) or 807-468-2170 (Kenora) or email me at [email protected].
Sincerely,
Eric Melillo
Member of Parliament
Kenora Riding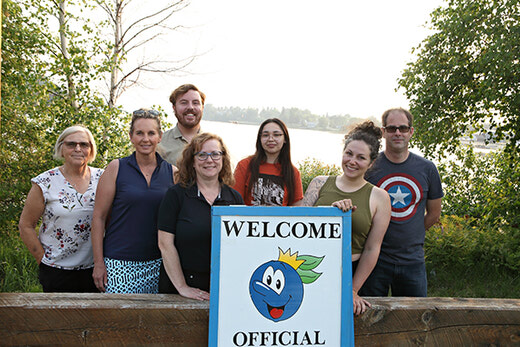 Wednesday, June 21, 2023
Sioux Lookout's 41st Blueberry Festival is slated for August 4-13 and deadlines for sponsorship and event registration are this week...