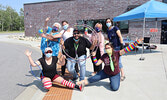 Firefly's Dance Party got participants grooving to the beats
Reeti Meenakshi Rohilla -
Staff Writer
Firefly's Dance Party brought together children, youth and their families on the sunny afternoon of August 16 to let loose and spread the contagious joy of dancing.
"The motivation behind the event was to provide something fun for children, youth and families to do – something outdoors that the whole family could get involved in," shared Krista Marshall, Firefly's Clinical Manager Child and Youth Mental Health Services.
"The focus of the #FIREFLYsummerfun activities offered this summer was on improving the well-being of our region's children and their families," she added.
With minimal preparations required for the event, there were hula hoops, bubble machines, colourful chalks for some creativity, refreshments, and of course, music, which was conducted in the parking area at Sioux North High School.
Marshall shared that even though the participation was less than what they had expected, it was a fun time for those present. "With the higher temperatures the day of the dance party event, it's likely that many children, youth and families were staying cool at the beach, so participation in the Dance Party event was smaller than anticipated, but we had a few children join us for some dancing and games later in the afternoon. Firefly would love to offer a similar activity next summer and we're thinking offering a dance party at one of our local beaches or parks would be a lot of fun!" she shared.
The Firefly Dance Party was part of a series of fun and interactive summer events, #FIREFLYsummerfun, made possible in partnership with the Northwest Catholic District School Board and the Kenora Catholic District School Board. Both school boards assisted with funding and for promotion of all the events offered as part of the #FIREFLYsummerfun initiative, shared Marshall.
Some other events conducted by Firefly as part of this initiative include certain Blueberry Festival events such as the community Rock Snake in Sioux Lookout, geocaching adventures, themed Wellness Bags giveaway (Beach Bag, Take a Hike, Book Bag, and Back to School), along with two virtual Holistic Arts and Mindfulness Programs for children aged 9-13 in the Kenora-Rainy River District.
Marshall shared that all these activities wouldn't be possible without the support of the Municipality of Sioux Lookout and the Chamber of Commerce who allowed the organization to use the Travel Information Centre for the location of the rock snake, the Keewatin-Patricia District School Board who allowed the use of the parking area at Sioux North High School, Josee Lafleur who offered the use of her bubble machine for the Firefly Dance Party and the Northwestern Health Unit who provided their shelter to provide some shade for creative chalk expression during the dance party event.
Firefly is wrapping up its #FIREFLYsummerfun event with draws for their rock snake activity taking place August 27, shared Marshall. She added, "We hope everyone had as much fun participating in them as we did planning them!"