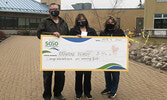 Fifth SLMHC Foundation 50/50 Charity Draw winner announced
Reeti Meenakshi Rohilla -
Staff Writer
Sioux Lookout resident Katherine Beardy took home the Sioux Lookout Meno Ya Win Health Centre (SLMHC) Foundation's April jackpot of $36,670. Beardy, who bought her ticket just a night before the draw, shared that she was very happy to win the jackpot, and would like to pay off her vehicle with the win.
SLMHC Foundation Treasurer Rita Demetzer said that the Foundation is grateful to all participants for their support by participating in the draws. She added, "We are certainly very grateful to all the participants to support the Sioux Lookout Meno Ya Win Health Centre (SLMHC) Foundation, by participating in the raffle. We were just doing a little bit of an update and realized that we have already, in five draws, given out over $190,000 in prizes, which is wonderful, and the same for the hospital. We have expenses, but, even so, it certainly is a huge gift to us and we've been able to already advise the hospital that we'll be able to provide over an extra $100,000 plus, to purchase equipment. We'll be getting equipment for the operating room and for the Cardiac Stress Testing Unit. So, we're very pleased, and as always, very grateful to everybody who participates and provides funding for the foundation."
Demetzer clarified that provincial funding does not provide any capital for equipment for hospitals. "We always have to raise money for any equipment that we may need from IV poles, to beds, to CT scanners, all of the things that are used at the hospital, the money has to be raised to provide that. So, we are certainly always, always, appreciative of the donations that we receive, whether straight donation, or through our 50/50 Raffle," she concluded.