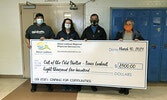 SLRPSI donates $8500 to Sioux Lookout Out of the Cold Shelter
Reeti Meenakshi Rohilla -
Staff Writer
Sioux Lookout Regional Physician Services Inc. (SLRPSI) presented an $8500 donation to Sioux Lookout's Out of the Cold Shelter last week, which will support them with better operations amidst the pandemic.
Sioux Lookout Out of the Cold Shelter Executive Director Susan Barclay shared, "The Out of the Cold Program is very grateful for the monetary support from the Sioux Lookout Regional Physician Services Inc. This year has been challenging for all of us, including the vulnerable people we support. SLRPSI's donation will assist us in providing a safe place for people to stay, nutritious meals and also to keep the Community Food Bank open to all."
"During COVID-19 pandemic it is even more important to recognize the tremendous care and effort it takes to keep our community safe and healthy. SLRPSI is proud to be able to donate to the Out of the Cold Shelter and to be able to contribute to the protection of our population in such uncertain times," shared SLRPSI.
Barclay shard her gratitude to the local health care team for this generous donation. "The health care workers in Sioux Lookout, including the physicians, nurses and others have been extremely generous this year with donations of money, soup, and other items. We are blessed that the essential workers have not lost sight of the most vulnerable in our area while they have worked daily to keep us all safe and healthy."
Sioux Lookout Regional Physician Services Inc. is a non-profit organization that aims to provide physicians, health care providers, and other staff that help optimize the quality of life for the region.