FedNor funding supporting economic development in Pickle Lake
Tim Brody - Editor
A Government of Canada investment of $216,548 provided through FedNor's Community Investment Initiative for Northern Ontario (CIINO) will enable Pickle Lake to retain an Economic Development Officer (EDO) on staff for an additional three-year period.
The investment is expected to maintain or create a minimum of 15 jobs.
Minister of Indigenous Services and Minister responsible for FedNor Patty Hajdu made the announcement on
May 20.
"Building on the success the position has achieved to date, the EDO will undertake a variety of priority projects that will strengthen the economy, position the community for sustainable growth and prosperity, and build upon the local employment market. This includes the construction of a multi-purpose training and innovation centre, enhancing and developing recreation sites and facilities, downtown revitalization, and highway and airport commercial property development," the news release informed.
"Smaller communities like Pickle Lake often struggle to grow their economies. But when regions have the tools to support new business, strengthen economic development and create jobs, they stay vibrant and strong. Rural and small communities drive regional economies and (are) critical to the economic success of our country. Our investment today will support Pickle Lake to continue their important work," Hajdu stated.
"We appreciate FedNor's support in helping our community thrive and grow. Pickle Lake is proud to call itself Ontario's Last Frontier, and investments like this prove that the Government of Canada is dedicated to building and maintaining the quality of life everywhere in our country," Kayla Blakney, acting Mayor of Pickle Lake, concluded.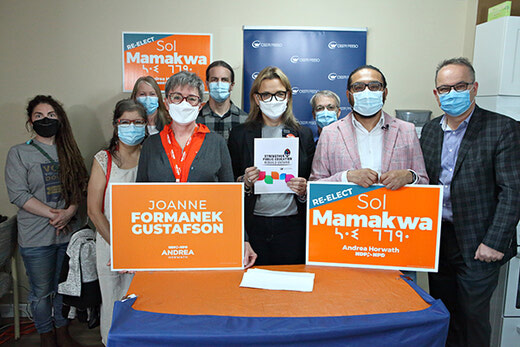 Tuesday, May 31, 2022
OSSTF/FEESO President Karen Littlewood visited Sioux Lookout on May 27 to announce the endorsement of NDP candidates JoAnne Formanek Gustafson, Kenora-Rainy River; and Sol Mamakwa, incumbent, Kiiwetinoong, in the June 2nd provincial election...