Dick's Hideaway
The pee ladder
My friend Otter, one of the original members of The Loyal Order of the Whiskeyjack sent some pictures that he took at this year's Great Canadian Whiskeyjack Calling Contest a couple weeks ago. With the full sensitivity of a mature, 21st century gentleman he delicately labeled this one "Dick's Pee Ladder."
Although I appreciated his thoughtfulness, I didn't really think he needed to have sent it to all the other guys.
I was reminded of a visit I had about 20 years ago with a long-time, out-of-country friend. I stayed for a few days at the home of Moe and his wife. And his huge, ferocious German Shepherd/Rottweiler mongrel named Oilslick.
Oilslick hated me.
One evening we all (except Oilslick) went out to a fondue restaurant for a leisurely dinner and a couple bottles of wine. That night, after we had all gone to bed, I heard ole Oilslick snorting and sniffing at the crack under my door, then heard him lie down on the little rug in the hallway right outside my door. The big bastard then began to snore and I knew right then he planned to sleep there all night.
Sometime a little later I awoke with the stomach discomfort that might come from tainted fondue oil, or maybe spoiled chicken or partly rotted fish. The discomfort quickly escalated. I had an overpowering urge to rush to the bathroom. I also had a spectacular fear of the monster brute outside my door, who must have heard me tossing and turning and moaning, and was once more snorting at the space between the floor and the bottom of the door.
Now, twenty years later, Oilslick is dead and I can laugh about it without making a mess, but I still remember it as the longest, most miserable night I have ever spent in my life.
Now, the pee ladder. I borrowed it from Mary – technically, maybe I stole it, since I didn't mention it to her, but what were the chances she'd need to climb up to retrieve a box of Cheerios or something from the top kitchen shelf during the few days I'd be away with it? So, I was able to sneak it back into the house at the end of the weekend and she's none the wiser about its kidnapping and lynching. Here's a picture of it dangling from the scaffolding after the bunch of vigilantes I hang around with at the whiskeyjack calling contest were done tormenting it (and me).
At the contest I get to sleep on the top bunk. It's not as much of a treat as it would have been when I was a kid, but it does afford me my own private space, and two windows beside my head allow cool fresh air to waft through, keeping me comfortable in a cabin the guys think should be heated up to about 100 degrees because we're burning logs and wood heat is so nice. The fresh air also cuts the peculiar night time pollution created by a bunch of snoring guys who have been drinking beer and eating pickled eggs and other delicacies all day.
The only way up and down from that top bunk is to climb onto a nearby couch – stepping gently from the seat cushion, to the arm, to the back, and then springing a final little lunge onto the mattress. Good until morning – except for someone who needs to get up and visit nature a couple times during the night.
A year ago I spent most of the night in agony with a full-to-bursting bladder because a new guy to the group, who I had just met, was sleeping on my climbing couch. That was the second longest, most miserable night I've ever spent in my life – second only to that awful night 20 years ago that Oilslick had me staked out.
For hours, in the haze of a whisky cloud and the daze of being half asleep, I schemed to figure out how to solve the horrible dilemma. I was pretty sure one of my possibilities wouldn't make the guy in the bottom bunk very happy. Another potential avenue probably wouldn't do the screens any good. And then, of course, I conjured up some really stupid ideas, all of which were bound to fail.
Pajamas aren't a piece of apparel we tough guys wear at camp, so I really hated to think about it, but after wrestling with the conundrum until I was about to explode, I knew I had to climb down, in the dark, the same way I went up earlier. Men who have to pee real bad develop a certain physical characteristic, so all in all, I really hated to climb down like that in the dead of night wondering what the new guy – the stranger – was going to think as he opened his eyes from a deep sleep and looked up to see why somebody's feet were planted in his pillow.
It worked out okay, though, as no words were exchanged and I found out in the morning that Barry the stranger had fallen asleep on the couch in the cabin next door.
I, though, couldn't end this stupid episode on a high note. I ended up outside, trying to pee off the deck into the trees. In the moonlight I peered over the railing and much to my astonishment I wasn't going. It felt like I was, but nothing was streaming overboard. In my foggy mind I concluded that I must have damaged myself seriously – probably an exploded bladder. Then, suddenly, warm on skin brought me to the realization that I was pissing against the railing, and it was all splashing back at me.
Hallelujah! Not because of what I had done to myself, but because my bladder hadn't blown up.
This year, I borrowed Mary's little step stool to help me up and down from the top bunk. It didn't do me a bit of good, though, since the guys stole it away the first day and hung it up with a rope where I wouldn't think to look in a million years. But it turned out okay as I heaped the praise on Barry for discovering the comfy couch in the cabin next door and remarked how comfortable it must be. I even told him I wished I had discovered it first.
So that's where he slept, by design, this year, and I had the climbing couch and the top bunk all to myself.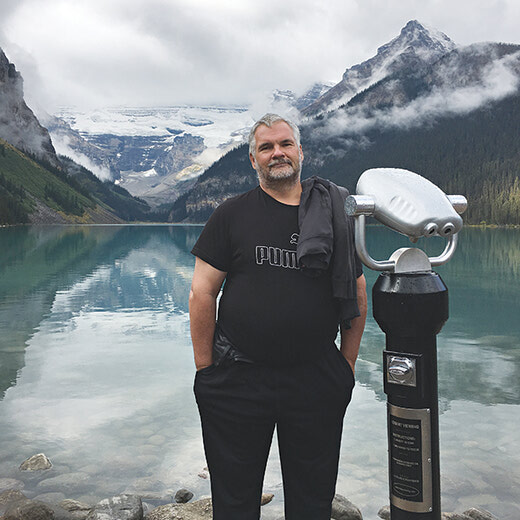 Tuesday, November 22, 2022
It is with profound sadness, that we announce the passing of Arthur (Bernard) Perlin, at the age of 61, on November 14, 2022...