Dick's Hideaway:
Funky weekend – remember eight years ago?
Last Friday morning was the beginning of a funky weekend.
Friends from Illinois invited me for breakfast at Knobby's. They had just arrived in town after an all-night drive. This was the 50th trip to Lac Seul for Gerry, on the right, and his son Todd, who has fished here with the old man for the last 20 years.
We met for breakfast last year for the first time, after several years of communicating via email.
It's an interesting friendship. It's pleasant. And comfortable. I think we'll share warm thoughts and good stories for a long time to come. As we said our farewells after our meal, I assured them that the wet, cloudy, cool morning would be clearing up within the hour and the coming week would be mainly sunny and warm.
Three hours later, in rain and cold, I set out for my own very special weekend at camp (every weekend at camp is very special - it's a magical place where every dream and every memory is a soft wrap).
I stepped off the boat onto the dock, subdued by flood waters, sloshing in rubber boots, panting under shirt, sweatshirt, down vest, and raincoat, wearing hat low and gloves pulled tight, and joined the dogs in a joyous rush, through the strings of dancing tent caterpillars waving from tree branches, and the swarming hordes of hungry mosquitoes, to the cabin.
Summer Solstice weekend - the beginning of summer, the ending of the longest daylight of the year - was as unruly as a pair of bear cubs at an anthill.
I had a few pages to go in Peter Geye's novel "Safe From the Sea". I had three hours to wait for a return trip to town to pick up Mary when she finished work. Wondering if I could pull the story up at camp from Kindle on my phone, I punched a couple buttons, dragged a couple icons, muttered a couple hopeful oaths, and ... Voila!
It was the perfect setting for a glorious happy, sad reading of the final pages of the last chapter.
The weekend was cool, and wet, and could have been gloomy. But we had walleye for breakfast, quiet times for reading and meditating, a gentle wood fire in the stove to warm the toes and souls. If it wasn't exactly what we hoped for, it was still pretty good.
I hope Gerry and Todd and the rest of their group have another of their wonderful weeks on Lac Seul. I'm pretty sure they will, as they have learned that perfection isn't necessarily required for satisfaction.
For me, when I got home from our weekend at camp, I ordered Peter Geye's newest novel "The Lighthouse Road" and intend to start reading it immediately.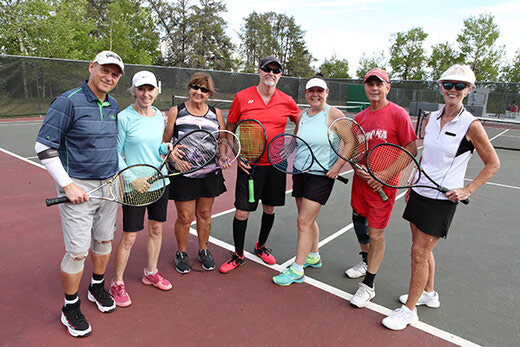 Tuesday, June 21, 2022
Sioux Lookout hosted an Ontario Senior Games Association (OSGA) tennis tournament on June 8...