Dick's Hideaway
Anthropomorphism, claustrophobia, and a perfect swoosher
Here's my little friend Chippy, who creeps up and stuffs his face with sunflower seeds while I sit three feet away smoking a cigar. When I'm not there he spends a long time sitting up and eating away. When I'm close he just stuffs the seeds into his cheeks until his head is nearly twice the size it was when he arrived. Once he's loaded almost to capacity he has to start shoving the seeds in with his paws and when his face is ready to explode he rushes off to stash his loot somewhere in the trees, then returns for another load.
Fearing I may be castigated for anthropomorphism, I nevertheless feel compelled to relate a strange question that careened through my little chipmunk friend's jaw full of sunflower seeds. "What have you been doing since I talked with you yesterday, my human friend, ummpf, mufft?"
I told him simply that I slipped out to camp with a small load of firewood yesterday. I had forgotten to set one of my security cameras when we left Sunday, so I only needed a faint excuse to head out. Once there and the work was done and I had checked my crawdaddy trap (plenty in there to combine with some corn on the cob, fresh baby garden potatoes, and a few other luxuries to make a great crawdaddy boil/cookout) I decided the afternoon was begging me to hang out in the palace with a relaxing cigar, and I felt who the heck was I to refuse?
During my pleasant daydreaming I was fooling around with my clamp-on cigar holder when suddenly a rubber disc on one of the jaws, about the size of a quarter, popped loose, fell straight down and through a quarter inch crack between the floorboards in what we used to call in basketball a "swisher" or a "swoosher" when the ball went through the basket without touching the backboard or the hoop. That rascal rubber piece fell perfectly through the tiny crack between two 2x6 floorboards.
After a shocked uh oh moment – a combination of awe from witnessing a perfect execution, and the dread from realizing my claustrophobia was about to be tested, I had some pondering to do. I have a huge irrational fear of being closed in – usually caused by having to crawl into a tight space, but also triggered by being in an airplane once it has touched down and is taxiing to the terminal, and exaggerated by the wait at the terminal for the door to open and for the exit line to get out. I even experienced a modest, but very uncomfortable, case when I locked myself in the bathroom at a friend's house last winter.
Reluctantly, I chose the shortest route and crawled on my belly under the Palace. I probably didn't get more than five feet, squeezing tightly under the first of two beams, when I lost my resolve and scrambled out.
For the next hour or so I wrestled with my options, the simplest being to just forget it. The little rubber piece isn't really essential anyway. Other options were to find a friend less chicken than I am to go retrieve it, cut a replacement piece from a hunk of rubber, see if I can find a factory replacement, buy a new holder, cut out a floorboard, and a few other strange possibilities. I was especially disgusted with myself, because that was the third time that piece had come loose and I had been meaning to glue it in place, but hadn't gotten around to it.
Eventually, I decided to try once more for a retrieval, but starting this time at the front of the deck, which is a longer crawl but starts out with higher clearance, although it still ends up the same height at my destination. So, I poked a flyswatter handle down the crack where my missing piece had fallen, to mark the spot in hopes of minimizing the search area, grabbed a flashlight, and embarked on my mission. Had to take a couple deep breaths, except under one beam where I had to suck it all in, and then had to look for about two minutes before finding my little rubber grip that had turned into a speck about one tenth the size I remembered and was exactly the same color as the muddy clay/dirt it was sitting in.
Once topside, I mixed up some epoxy and glued both little rubber feet into place on my cigar holder, and sat, muddy and bruised, admiring my handiwork, exceedingly happy and satisfied in the warm afternoon sun.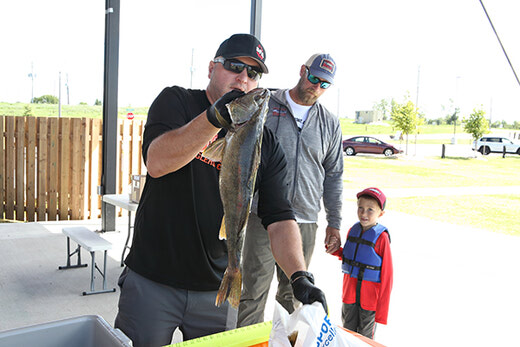 Tuesday, August 23, 2022
A good day of fishing and a lot of fun. That's how participants in this year's Morgan Fuels Jr. Walleye Championship, presented by Sioux Lookout Anglers and Hunters (SLAH), described the August 20 event....