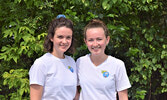 Coordinators reflect on Blueberry Festival 2019
Jesse Bonello - Staff Writer
The 37th annual Sioux Lookout Blueberry Festival came to a close on August 11. The ten-day festival featured over 100 events.
Blueberry Festival co-coordinators Maddie Mesich and Hannah Willms shared that they've received plenty of positive feedback from festival attendees.
"I thought it went really well. We had a lot of really positive feedback from people in the community, at each event, and also through word of mouth from other people. I think we had really good attendance at most of our events, and other event organizers reported that they had good attendance too," said Mesich.
"I think everyone had fun. The weather was really nice. It seemed like everything went pretty smoothly. It seemed like everything was pretty well planned and we were able to work together with other event organizers really smoothly, so it was really nice that everyone came together," said Willms.
When asked if they plan on making changes to the festival moving forward, the two said that, as of right now, they're hoping to continually improve festival advertising and outreach for volunteers.
"We're still compiling information for our report, and we're hoping to do some surveys to event organizers and to members of the public to hear back from them. As always, we want to keep working on our advertising and promotion efforts because that's something that can always be better and more extensive," said Willms.
"I think just working on ways that we can continue to support other event organizers and help them with their events to make everything run more smoothly. Recruiting volunteers I think is something that we'll be probably working on a bit next year. It was kind of difficult to find volunteers this year for some of the events, so we're hoping that we keep spreading the word that we need volunteers during the festival," said Mesich.
This is the second year that both Mesich and Willms have been involved in coordinating the Blueberry Festival. Last year, Mesich coordinated the 36th annual Blueberry Festival with Willms as her assistant coordinator. The two co-coordinated this year's festival. They said their previous coordinating experience helped them during this year's festival.
"I definitely think that knowing what to expect during the festival made things run a bit more smoothly because we didn't feel as worried that things would go wrong. We knew that it would be fun no matter what and it would be a really great time for the community," said Mesich.
Due to potential school and employment opportunities, the duo is unsure about coordinating future festivals. They shared that they aren't opposed to the idea.
"I don't think we're really sure because both of us are heading into various school and work possibilities and it's hard to know how that will mesh in the future, but I don't think we're closed to it," said Willms.
"I think it would be a lot of fun to do it again, but we just have to see if we're able to," said Mesich.
Both Willms and Mesich thanked everyone involved who made the festival possible.
"We're very grateful to all the sponsors, the event organizers, and everyone else who helped out because it made everything go well, and we hope that can continue for the Blueberry Festival," said Willms.
"We're also very grateful to the board of directors because they're all volunteers and they put in so much time to help with the events that we run and also planning the whole festival throughout the winter. When no one else is really thinking about the Blueberry Festival, they're working behind the scenes to try to get everything organized, apply for grants, and do the beginning stages of the planning. We're really grateful that they put in so much work for the festival," said Mesich.
This year's Blueberry Festival t-shirts, sunglasses, and water bottles are still available for purchase at the Travel Information Centre.
For more information or to provide feedback, contact [email protected] or reach out to their Facebook page @BlueberryBert.