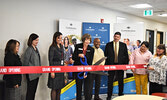 Confederation College celebrates grand opening of new campus location in Sioux Lookout
Jesse Bonello - Staff Writer
Confederation College's Sioux Lookout Campus celebrated the grand opening of its new location on Oct. 29.
Located at 86 Third Avenue, the campus is a co-location with Sioux North High School and Firefly.
"Our co-location with Sioux North High School and Firefly will enable us to expand our existing dual-credit and adult education partnerships, while our integration with longstanding partner Contact North will continue to bridge our connection to learners, faculty and staff at our other campuses and facilitate online learning," said Confederation College President Kathleen Lynch during the grand opening.
"These campuses are all about providing access for communities to take advantage of post-secondary education and other training opportunities, so we are thrilled to be here today in our new campus location," she said.
Confederation College shared they moved out of their former location in May and officially opened their doors to students at their new location in September.
The new facility, which is over 5000 square feet, includes upgrades to student learning environments as well as access to technology.
"With more than 5000 square feet of space here, the facility boasts a mix of classrooms, a computer lab, a health lab with state-of-the-art and high fidelity mannequins, and our student lounge, which is also an active study area," said Angelina Anderson, Director, Sioux Lookout and Dryden Campuses.
"It's wonderful to be here because our previous location just wasn't conducive to the kind of atmosphere we want to provide to our learners, so to have a brand new facility to do this is a wonderful day for everyone… This new space provides additional motivation for our learners. It allows them to pursue their educational dreams and it enables us to remain flexible and adaptable to their changing needs. Improved learning capacity and supportive environment have already become cornerstones of this facility since we opened in September," said Lynch.
Confederation College said students in Sioux Lookout were thrilled and excited to start attending the new campus. Since programs started in September, students have been providing positive feedback.
"For returning students I think they were really excited. They were eagerly looking forward to and anticipating the move. When they stepped in to the space they were blown away. It's so comfortable, it's so beautiful, and lets the natural setting and sunshine come in to the space as well. All the students, returning and new, I think feel a really warm, welcoming vibe and environment here. It's been fantastic for students and staff alike," said Anderson.
"We were hoping that we would create an environment where they (the students) felt comfortable. This is a space for them. It's not for us; it's for us to provide access to them for post-secondary and other kinds of educational opportunities and training. For us, this is great feedback. I've already been speaking with people who work at the high school and now we'll be able to bring those high school students over to get a taste of what it's like to come to college, and I think there's going to be far more uptake from those students who want to stay here and pursue their education," said Lynch.
During the grand opening, which featured a ribbon-cutting ceremony, Lynch thanked the community of Sioux Lookout as well as First Nations partners for continually supporting the local campus.
"I'd also like to thank the entire community of Sioux Lookout and our First Nations partners for their support of our college. We've had a campus here in Sioux Lookout for 38 years, so we're approaching 40 years of history in providing post-secondary and other educational opportunities here in Sioux Lookout. We couldn't and wouldn't be here without your continued support," she said.
Confederation College's Sioux Lookout Campus will be offering 13 winter programs that are beginning in January. The programs are Business Fundamentals, General Arts & Science, Business, Business – Accounting, Business – Human Resources, Business – Marketing, Aboriginal Canadian Relations, Educational Assistant (Educational Support), Autism and Behavioural Science, Diabetes Education, Human Resources Management, Library and Information Technician, and Office Administration.
For program details visit confederationcollege.ca/siouxlookout.