Children learn about local healthcare services in a fun way
Tim Brody - Editor
An estimated 260 people attended the Teddy Bear Picnic on the afternoon of July 11 at Centennial Park.
Lead by The Sioux Lookout Child and Family Health Network, organizations which participated in the Teddy Bear Picnic included: Northwestern Health Unit, Meno Ya Win Health Centre, Sioux Lookout First Nations Health Authority, Remedy's Pharmacy, Ontario Native Women's Association, Nishnawbe-Gamik Friendship Centre, Sunset Women's Aboriginal Circle, Seven Generations Education Institute, FIREFLY, FIREFLY EarlyON, Sioux Lookout Public Library, and KDSB Early Learning Centres.
Organizers said the Municipality of Sioux Lookout supported the event with park set-up and clean-up.
The purpose of the event was to expose children to the healthcare services in Sioux Lookout in a way that is fun and engaging for them. Organizers shared, "The hope is that when children need to access these services for themselves in the future, they'll remember how brave their Teddy was!"
Event organizers explained, "Children were invited to bring their favourite Teddy Bear/stuffed toy for a health check-up, which consisted of a dental screen, hearing screen, weighing station, blood work, immunization, diagnostic imaging, and education on how to use an inhaler for treatment of asthma! "Children also had the opportunity to learn how to build their own First Aid Kit and play life-size Operation. Other stations included activities that promote important aspects of a child's development: creativity (colouring station), physical activity (potato sack races, parachute), and sensory play (messy play station)."
Dinner was sponsored by The Healthy Community Task Force with additional support from Sioux Lookout Meno Ya Win Health Centre Laboratory Department, Remedy's Pharmacy, the Sioux Lookout First Nations Health Authority, FIREFLY, FIREFLY EarlyON, and the Northwestern Health Unit.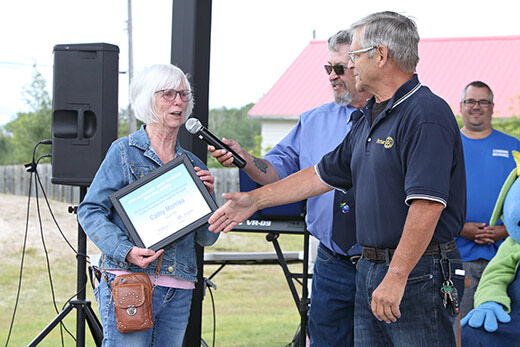 Thursday, July 20, 2023
The Rotary Club of Sioux Lookout is encouraging people to think about who has been a great volunteer in this community and nominate them for this year's Jack McKenzie Memorial Award...