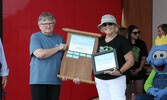 Charron Sippola named 2023 Jack McKenzie Memorial Award recipient
Tim Brody - Editor
Charron Sippola is this year's recipient of the John Alexander "Jack" McKenzie Memorial Award.
Presented on August 4 by the Rotary Club of Sioux Lookout during the opening ceremonies of the 41st Annual Blueberry Festival, the award recognizes outstanding volunteerism, as exemplified by the award's namesake.
Sippola is a volunteer with the Canadian Legion and Legion Ladies Auxiliary, the Sioux Lookout Seniors Activity Centre, the Chamber of Commerce, Kenora Rainy River Child and Family Services, the Blueberry Festival Committee and the Northern Lights Community Theatre group.
A busy volunteer, Sippola still found time to introduce pickle all to the community, help out with the Ontario Senior Games, and teach line-dancing while in Arizona. Sippola is also a "friend" of the Sioux Lookout Lion's Club, helping out when needed.
Sippola has a long history of supporting others in the community. She has served on Municipal Council and was awarded a Queen Elizabeth II Jubilee Medal.
Charron Sippola, with partner Warren Sippola, came to Sioux Lookout as young teachers, just over 50 years ago. They raised three children in Sioux Lookout and became immersed in the community.
According to the Rotary Club of Sioux Lookout, the Jack McKenzie Memorial Award was first presented by the Rotary Club of Sioux Lookout in 1992 and is presented annually to a local resident "in recognition of selfless dedication to the community and its people". The award is in memory of the late Jack McKenzie, an outstanding volunteer who, for many years, served on a wide variety of committees and organizations.
The Rotary Club explained that nominations are received annually from community members. "A small committee of Rotarians reviews the submissions and most of the time has great difficulty choosing just one winner," the Rotary Club shared.
There were eight other nominations received this year.
The Rotary Club of Sioux Lookout shared of these nominees:
Carol Frejek has assisted the Sioux Looks Out for Paws animal rescue for many years. She has accepted donations of home decor, appliances, art, toys, etc. that have then been sold through Facebook. Carol has raised thousands of dollars each year. A double win for Sioux Lookout as the items are recycled/reused and landfill usage reduced.
Dori Hopko is currently active as a member of the executive of the Chamber of Commerce, the Sioux Lookout Golf and Curling Club and the Blueberry Festival Committee and has over the past 20 years served in many capacities. She also continues to be involved with the Catholic Womens' League and the Sioux Lookout Bombers Jr. A hockey team. She has volunteered for the Sioux Lookout Skating Club and teaching students in the Fashion Design program at Sioux North High School over the years. Dori never hesitates to help out in any and all capacities.
Andre Larocque is a volunteer with many events in Sioux Lookout including the Sioux Lookout Bombers Jr. A hockey team, the Canadian Legion, Walleye Weekends, Santa Claus Parades to name a few.
Andre is always helping the community, from score keeping to organizing cribbage tournaments he is eager to help and always with a smile.
Nancy McCord is involved with Friends of Cedar Bay, Kids Kaleidoscope, 1st Sioux Lookout Beavers, and Northern Lights Community Theatre.
Nancy has also been integral in the painting of rocks featuring a poppy design with her children and their classmates. The rocks were then sold and 100% of the proceeds went to the Sioux Lookout Legion's Poppy Fund.
Whether it be rock painting, community cleanup, Haunted Trail and Trunk or Treat at Cedar Bay or Easter Egg Hunts, Nancy gets her whole family involved, instilling in her young sons the value of community involvement and giving back at an early age.
Anne Saltel is a member of the Sioux Lookout Municipal Environment Committee, Secretary of the Sioux Area Seniors Activity Centre, and the Sioux Lookout Public Library Board. Anne is also active with the group Dying With Dignity. She has also taken on the task of organizing "All Candidate Forums" during the Municipal, Provincial and Federal Elections.
Esther Starratt has been the main support of the Lost Lake Drop In Centre. She has kept the morning program going and overseen the Wednesday lunches for at least 10 years. The programs are able to continue as a result of the funds raised by Esther.
Kathy Storey has worked tirelessly at the Lost Lake Drop In Centre over the past year. She organizes donations, bakes treats and bread to sell at the store, donating the proceeds back to either the store or the local food pantry at the Lost Lake Drop In Centre. Kathy helps plans and facilitate community events. She has created a safe space for all members of the community to enjoy.
Jackie Toms is currently volunteering with Skip to Equip, Ojibway Power Toboggan Association, and Salvation Army. She was previously involved with Girl Guides.
Jackie not only volunteers though formal channels but you will also find her teaching a new person to town how to make banana bread, bringing them fish, driving a new family in town to dinner or organizing a women's camping trip. She goes above and beyond for this community.
The Rotary Club of Sioux Lookout shared, "The Rotary motto is "Service Above Self'. We are grateful that many in this community follow that principle and that we receive amazing nominations not just this year but every year. Sioux Lookout is a community where volunteerism is very much alive and well."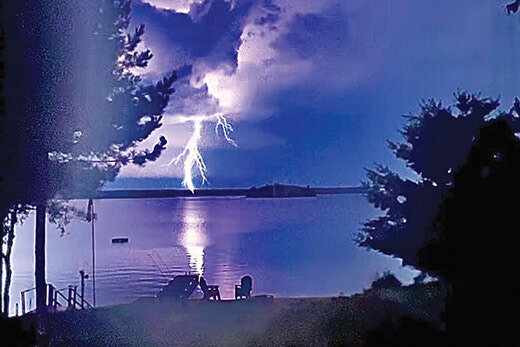 Wednesday, August 2, 2023
Sioux Lookout resident Kimberly Murphy captured this stunning photo on July 27 from her home on Pelican Lake.