Celebration of Equay-Minis Island a celebration of reconciliation
Tim Brody - Editor
A celebration of reconciliation on August 4 in Sioux Lookout as a celebration of Equay-Minis Island was held during this year's Blueberry Festival.
The municipal Truth and Reconciliation Committee hosted a sunrise ceremony at Rotary Park that morning, followed by a breakfast feast put on by the Nishnawbe-Gamik Friendship Centre. At noon, people were invited to join in a paddle around the island from the Town Beach.
"Today we're celebrating the renaming of Equay-Minis. A true act of reconciliation that represents true progress," Sioux Lookout Mayor Doug Lawrance told those gathered. "We acknowledge all the women that are here because the renaming of the island is about honouring and respecting women," he added.
Lac Seul First Nation Chief Clifford Bull, looking out on the waters of Pelican Lake said, "I look at the lake and I see a lot of history."
He went on state, "I'm very happy to be here today. I want to acknowledge the great work of the Truth and Reconciliation Committee as well for all their hard work for renaming the island Equay-Minis, now its new name. We're proud of the name."
Municipal Truth and Reconciliation Committee Chair Darlene Angeconeb said she felt it was a historic day, celebrating the renaming of the island, "The island, as we know, was called Squaw Island, and it's been renamed to Equay-Minis. Equay meaning woman, Minis meaning island."
Angeconeb shared with The Bulletin, "When I posted it on my personal Facebook, I put the story in there about what happened a long time ago, how the Sioux came over (to battle the Ojibway) and that island was where the women and children were held in safety."
Speaking of the process of renaming of the island, Angeconeb further recalled, "It fell under 'historical' as a sub-committee and Tom Terry was there, and he was the one who had brought up the renaming of that island because Squaw Island is kind of derogatory. I remember when I was living here in the 70's going to high school, that's all I could hear from cars, guys would drive by, "squaw," they would say to us. It wasn't very nice."
Reflecting on the island's past name and history, Bull acknowledged First Nations women, telling those gathered he was also thinking about missing and murdered women across Canada.
Angeconeb said she would have liked to have seen more participants for the event, which she said went well.
"I think what counts is that people know, or become aware, of that island. Some of the work of the Truth and Reconciliation Committee is to try to address the 94 Calls to Action, as many of them as we can and whichever way that we can. It's Indigenous, non-Indigenous working together, that's why the Chief and the Mayor canoed together," she said.
Angeconeb shared, "When we got around the island, there was an eagle that flew off from the island to Sioux Mountain. I thought that was nice. To me that was a blessing."
Angeconeb said she would like to see the paddle around the island become an annual event.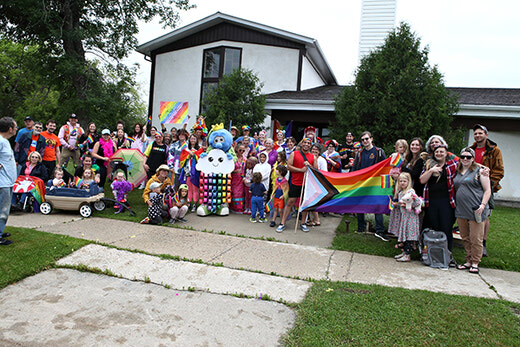 Tuesday, August 9, 2022
Diversity and inclusion were celebrated in Sioux Lookout on July 31 through an LGBTQ2S+ Pride Celebration Parade...