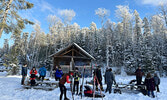 Cedar Bay Cozy Cabin reopens for the season
Tim Brody - Editor
Cozy Cabin Saturdays are back! The cabin, located on the shore of Pelican Lake at Cedar Bay, reopened to the public on Jan. 7 for the first time since the start of the COVID-19 pandemic.
The cabin will be open every Saturday from Noon to 4 p.m. until March 25.
"The Municipality lets Friends of Cedar Bay use the cabin. Friends of Cedar Bay's Lakeshore Committee organizes the volunteers. The Salvation Army donates money each year to help cover the costs of our winter programming. And we have a bunch of community members who help us host Cozy Cabin," said Suzie Hughdie, Lakeshore Representative on the Friends of Cedar Bay Board.
Hughdie explained, "Community volunteers take turns hosting Cozy Cabin. Volunteers are responsible for picking up the sled and key, bringing water down to the cabin, lighting the fire, and tidying up at the end of the day. Often the volunteers bring baking and treats as well!"
"Everyone is welcome to visit. The cabin is warm, there's seating, board games, and sleds for the big hill on the road behind the cabin. It's a great place for meeting up with friends and making new ones! There's always a big pot of water on the woodstove and a selection of hot chocolate and tea to enjoy. We appreciate donations, they help us keep the cabin stocked with treats and games. On nice days there's often a bonfire lit in the big fire pit outside. Visitors often pack hotdogs to roast outside or a lunch to enjoy at the picnic tables. Please keep a close eye on your children around the woodstove and firepit! We ask that only adults pour hot water into cups and add wood to the fire," Hughdie said.
Anyone interested in volunteering to be a Cozy Cabin host can e-mail [email protected].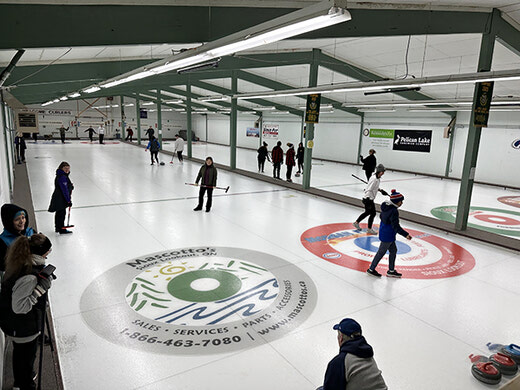 Tuesday, January 3, 2023
A long running holiday tradition in Sioux Lookout continued on Dec. 27, with 10 teams taking part in the Knobby's Memorial Funspiel at the Sioux Lookout Golf and Curling Club...