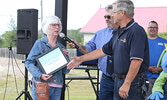 Cathy Morriss named 2022 Jack McKenzie Memorial Award recipient
Tim Brody - Editor
Cathy Morriss is this year's recipient of the John Alexander "Jack" McKenzie Memorial Award.
Presented annually by the Rotary Club of Sioux Lookout, the award recognizes outstanding volunteerism, as exemplified by the award's namesake.
Morriss is a lifelong resident of Sioux Lookout who spends a lot of her time helping others.
The Rotary Club of Sioux Lookout shared that Morriss has taken on the role of providing meals to seniors and others who could use a break. "Throughout COVID, Cathy has prepared meals and delivered them around town. She has found time between making gnomes, knitting socks and other crafts and making jams, jellies and pickles to turn her talents to cooking dinners. She does get some support from others, sometimes anonymously when people drop off supplies at her door, but she is the one who puts the love and care into the preparation of the meals that have brought joy to so many in Sioux Lookout," the Club shared. Morriss has prepared more than 700 meals over a period of approximately three years.
Blinking back tears, Morriss said of receiving the award, "I'm absolutely humbled and you have no idea how much gratification this brings me."
Also nominated for this year's Jack McKenzie Award was Randy Henrickson for his work with the Ojibway Power Toboggan Association.
Previous recipients of the Jack McKenzie Memorial Award have included: 1992 - Margaret Atwood, 1993 - Rose Caswell, 1994 - Jack Carroll, 1995 - June Wallace, 1996 - Ella Williams, 1997 - Les Johnston, 1998 - Marnie Hoey, 1999 - Beth Daley, 2000 - Wally Glena, 2001 - Emma Bowes, 2002 - Muriel Anderson and Wayne C. Pearen, 2003 - Paul Brown, 2004 - Mario Facca, 2005 - Rachel George, 2006 - John D.Cole, 2007 - Jack Reek, 2008 - Attilio Durante, 2009 - Christine Hoey, 2010 - Eileen Jefferies, 2011 - Sandra Lockhart, 2012 - Althea George, 2013 - Peggy Sanders, 2014 - Gail Roy, 2015 - Florence Woolner, Terry Lynne Jewell, Aileen Urquhart, and Faith Ferre, 2016 - Michela Pauselli Salter, 2017 - Nordic Nomads Ski Club - Ron Laverty and John Davies, 2018 - Bruce George, 2019 - Ron Lemmon, 2020 – Geraldine Morgan, and 2021 - Darlene Angeconeb.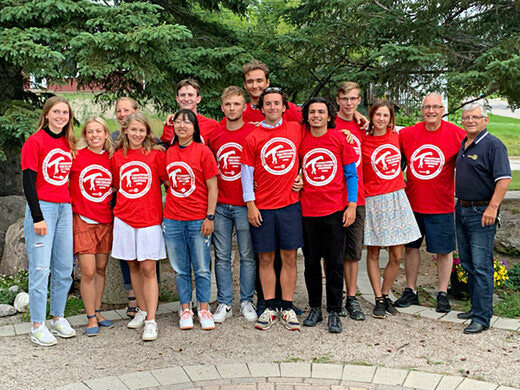 Tuesday, August 2, 2022
An experience of a lifetime for 13 international youth.
For the 28th year, the Rotary Club of Sioux Lookout hosted the Rotary District 5550 International Camp which took the international youth on an eight-day, seven-night canoe excursion...