Camaraderie among Sioux Lookout Fantasy Football League participants in the spotlight as football meets flavour at Fair Convenience
Angela Anderson - Staff Writer
In the heart of Sioux Lookout camaraderie and competition have blended seamlessly in the form of the Sioux Lookout Fantasy Football league. Spearheaded by Eric and Ronnie Goretzki, the league has evolved into more than just a platform for football enthusiasts to showcase their strategic prowess. It has become a vibrant community that thrives on quirky "punishments" and heartfelt support.
One recent "punishment" stands out among the league's many escapades. Cam Stewart, a league member known for his enthusiasm and daring spirit, was tasked with an amusing trial for finishing last place in the league: sit at Fair Convenience for a whopping 12 hours. His "punishment" had an added twist – every serving of mozza fries he consumed would shave an hour off his sit-in sentence. As the hours ticked by, Stewart devoured seven servings of mozza fries, earning himself an early departure at 2 p.m. But he wasn't alone in the adventure. Ashley Stewart, Cam's wife, was granted the opportunity to assist her husband's cause by consuming one serving of mozza fries. With this small act of solidarity, she lightened the load of Cam's culinary commitment.
Eric Goretzki, the league's originator, traces the league's roots to his early fascination with his brother Ronnie's fantasy football exploits. However, age prevented Eric from joining, leading him to establish his own league four years ago.
At the heart of this "punishment" challenge was Debra Young, owner of Fair Convenience. Since 2003, Eric and Ronnie say Young has been a cherished figure in the community, extending her care not only to her loyal customers but also to high school students who frequent her establishment for lunch. The light-hearted "punishment" was devised not only to highlight Fair Convenience but also to forge a connection between the league and Young's establishment.
Cole Skanderberg, another league member, stood by during the "punishment" to support Stewart during his mozza fry marathon. Although he escaped the "punishment" himself, Skanderberg playfully stated, "I am so glad I didn't come in last."
The camaraderie didn't stop there. Other league members attended to offer encouragement and share in the laughter. The sentiment was unanimous among those gathered, who expressed the opinion that Young's mozza fries are the best in town.
As the sun set on this memorable event, the Sioux Lookout Fantasy Football league once again proved their league is about much more than just football. It's a celebration of friendship, community, and the joy of embracing life's little eccentricities. With each challenge, the league reinforces its bonds and shows that even in the realm of competition, there's always room for a little fun and a lot of
heart.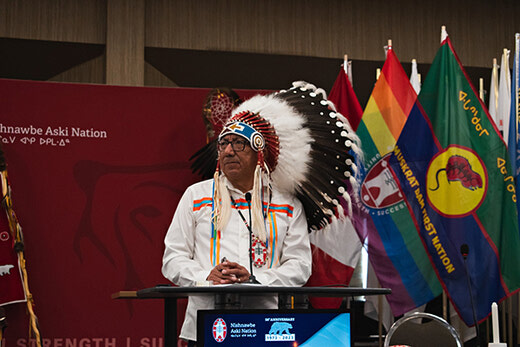 Thursday, August 24, 2023
Alvin Fiddler was sworn in as Nishnawbe Aski Nation (NAN) Grand Chief on Aug. 16 during the 41st Keewaywin Conference which took place in Thunder Bay at the Victoria Inn and Conference Centre last week...