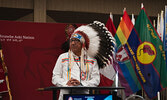 Alvin Fiddler sworn in as NAN Grand Chief
Tim Brody - Editor
Alvin Fiddler was sworn in as Nishnawbe Aski Nation (NAN) Grand Chief on Aug. 16 during the 41st Keewaywin Conference which took place in Thunder Bay at the Victoria Inn and Conference Centre last week.
Grand Chief Fiddler, who was acclaimed to the position, will serve the final year of the current term for the Executive Council (approximately one year).
Fiddler has served as Grand Chief and Deputy Grand Chief of NAN in the past.
According to NAN, an election for Grand Chief and three Deputy Grand Chiefs will be held around this time in 2024.
Nishnawbe Aski Nation is a political territorial organization representing 49 First Nation communities within northern Ontario.
Thursday, August 24, 2023
Nishnawbe Aski Nation Grand Chief Alvin Fiddler, Deputy Grand Chiefs Anna Betty Achneepineskum, Bobby Narcisse, and Victor Linklater congratulate recipients of the 2023 Keewaywin Awards for their outstanding leadership and contributions to our Nations...