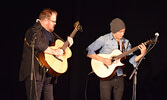 Acoustic guitar duo shines at Entertainment Series
Jesse Bonello - Staff Writer
Acoustic guitar artists Don Ross and Calum Graham left audience members wanting more during their Sioux-Hudson Entertainment Series performance on Feb. 5.
Their Sioux Lookout performance was part of a tour that went from Winnipeg to Sioux Lookout, Dryden, Fort Frances, Duncan, British Columbia and Victoria, British Columbia.
Their bios read, "Don Ross, the only 2-time winner of the prestigious U.S. National Fingerstyle Guitar Championship (1988 and 1996), has toured regularly since 1989, across Canada, the USA, a dozen European countries, Japan, Taiwan, China, Australia, Russia and India… Recently named one of the World's Top 30 Guitarists under 30 by Acoustic Guitar Magazine, Calum Graham plays the acoustic as well as the harp guitar, and his music embraces elements of folk, world, and blues – all built upon the foundation of the fingerstyle technique."
The duo shared that playing in a small town like Sioux Lookout is nothing new for them despite countless performances and tours that have brought them to big cities worldwide.
"I'm from a small town so this is a familiar environment that I grew up in. It was cool, and it was a really great audience tonight," said Calum Graham.
"Being from Canada, I've played in so many communities in this country; everywhere from the biggest concert halls to little, tiny towns. I really like it all. It's all a chance to play music, and I find that people in small towns, very often, are even more appreciative. They go out of their way to let you know how much they appreciate it, so I really like that," said Don Ross.
"It's always lovely to come to these communities where you can really tell that music is appreciated. What Calum and I do is not pop music so it's a bit of a niche thing, and yet people who are willing to listen are almost always freaking out about it. They love it, so obviously it was a listening crowd tonight. It was nice," Ross continued.
The two agreed that they would love to perform in Sioux Lookout again.
"We had a blast and we will come back any ole time," said Ross.
Don Ross has a new album out called A Million Brazilian Civilians, which is available on iTunes, Amazon, Spotify, Apple Music, Tidal, and the Google Play store. Calum Graham revealed that he too will be releasing something soon.
"I have a new album coming out… That's going to be launching as of April, so be on the Sioux Lookout for that," he concluded.
To see more information and music, go to calumgraham.com and donrossonline.com.
The next Sioux-Hudson Entertainment Series performance is on March 6 when the Royal Manitoba Theatre Centre comes to town.
To see more information, including the rest of this season's lineup, go to siouxhudsonentertainmentseries.ca.