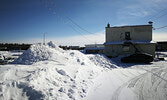 January temperature three degrees colder on average
Tim Brody - Editor
The month of the January was cold in Sioux Lookout, but not as cold on average as some people may have thought.
Marie-Eve Giguere, Warning Preparedness Meteorologist for Environment Canada, shared "The average temperature was minus 20 for the month. That takes into account highs and lows. The normal average temperature is minus 17."
"The thing is" she continued, "Early January was still well above normal. December was really mild and the first week of January, we were still in this mild trend. Pretty much precisely mid-January it changed and we went well below normal. That's why it doesn't appear much, much colder. It still averages out to a three degree difference."
Sioux Lookout broke a record in the early morning hours of January 28, with a temperature of minus 43.9 Celsius.
Giguere said that temperature was the coldest recorded for that date in Sioux Lookout since record keeping began in 1914.