A weekend to remember for local, regional skaters

Tim Brody, Editor & Andre Gomelyuk, Staff Writer
An inspiring weekend for skaters courtesy of the Sioux Lookout Skating Club.
In addition to getting an opportunity to hone their skills with Canadian figure skating icon Kurt Browning, the event's 33 participants also got a chance to improve their strength and flexibility, as well as learn how to better manage stress and brush up on healthy eating habits.
The two-day event ran from Sept. 24 to 25 at the Sioux Lookout Memorial Arena and Sioux Lookout Recreation Centre.
Sioux Lookout Skating Club members said it was an amazing weekend.
Savannah Otto, 12, said of the two-day seminar, "I think it's amazing. It's really nice to have this opportunity to skate with Kurt Browning."
Flint Rattai, 12, shared, "I think it's a pretty good opportunity to skate with Kurt Browning."
Aubrey Bates, 17, said of skating with Browning, "He's really fun to skate with and you can tell that he really loves what he's doing, so when he teaches, it's really easy to grasp."
Ruth Broderick, 18, commented, "It's awesome. He's really fun to skate with. I've been to a lot of seminars with other famous skaters before; they're always so much fun and you feel super motivated at the end."
And inspire is exactly what Browning said he set out to do.
"This seminar has that feeling of inspiration," the four-time Canadian figure skating champion and four-time World Champion said. "You're on the ice and you are hopefully inspiring, but kind of getting inspired back by kids that don't get as much attention as other parts of the world," he said.
He recalled being inspired himself, years ago, by a visiting skater to his club in Rocky Mountain House, Alberta.
"He just made it look easy. So, somebody did that for me, it's nice that I can come up here, and spend a weekend, and meet a lot of wonderful people."
"I love inspiring and meeting people and sharing my love of the sport," he added.
Skaters from the Sioux Lookout Skating Club were joined by skaters from Dryden, Keewatin and Kenora.
Grade 9 student Claire Gauthier, of the Kenora Skating Academy, enjoyed the seminar.
"My favourite thing about this weekend would be learning everything from him [Kurt Browning], getting us to try the new things he had… doing things that I never actually got to try before… It went very well. I had a lot of fun."
Grade 11 student Sydney Merlino, also from the Kenora Skating Academy, shared, "My favourite thing about skating is you feel powerful, you feel free." She said of the seminar, "I learned a lot and had lots of fun."
Carole McLuckie, Skate Keewatin Coach, said of the seminar, "I think it's an amazing opportunity for our skaters in northern Ontario… I hope this inspires our younger skaters to want to continue, and to set goals for themselves to try their best, and to have fun."
FIREFLY representatives Krista Marshall, Michaela Gilhooley, and Sabrina Elsey talked with the skaters about how to manage stress in a healthy way.
They said they were impressed with the skaters and wished to thank organizers for inviting them to be part of the event.
Liz Gardner of Stage Door Studies, based out of Dryden, taught the skaters some ballet and contemporary combinations, helping the skaters enhance their ability to use their full range of motion and help them to be fluid, graceful, and confident as they move across the ice.
She too enjoyed working with the skaters and enjoyed her time at the seminar.
"The kids have been fantastic. They've worked really hard and tried everything that I gave them, and so wonderfully talented all the kids were," she said.
NWHU representatives Zoe Brenner and Laura Lilly spoke with skaters about body positivity, as well as building healthy relationships, healthy eating and living an active lifestyle.
Jory Kettles, registered kinesiologist, helped skaters improve their strength and agility with core strength exercises. "I was a competitive a figure skater back in the day in northern Ontario. So, to see an event like this happening in Sioux Lookout is just awesome," he said.
Sioux Lookout Skating Club President Kim Savoie said she felt skaters walked away with improved skills, greater knowledge, and had fun.
"I can't stress enough how much the community supported this event," she added, extending her thanks to everyone who helped make the event such a success.
"It was a good weekend all around" she concluded.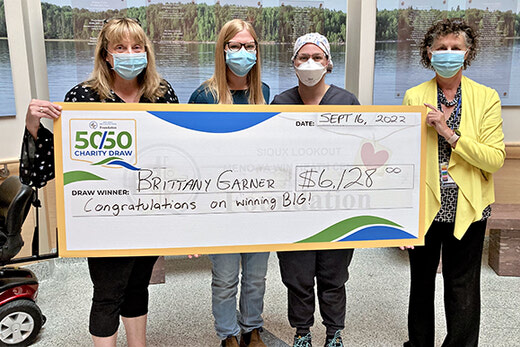 Tuesday, September 27, 2022
Sioux Lookout resident Brittany Garner was the latest Sioux Lookout Health Meno Ya Win Health Centre (SLHMC) Foundation 50/50 draw winner...