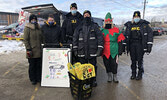 13th Annual Stuff a Cruiser initiative taking place Saturday
Tim Brody -
Editor
The First Step Women's Shelter (FSWS) and Sioux Lookout OPP Detachment are once again partnering to help all the families in our community have a great Christmas.
OPP officers and FSWS staff will be at Giant Tiger from 10 a.m. to 12 p.m., Red Apple from 12 p.m. to 2 p.m. and Fresh Market Foods from 2 p.m. to 4 p.m. this Saturday (Dec. 4) accepting donations of toys and non-perishable food items for the Annual Stuff A Cruiser initiative in the community.
Monetary donations will also be accepted.
Donations support local families through the FSWS's Adopt A Family program.
Now in its 13th year in Sioux Lookout, the initiative was started locally by Laura Duguay, FSWS Transitional Housing Support Worker and her husband Sioux Lookout OPP Sergeant John Duguay.
Laura Duguay said each year the initiative makes a significant difference in helping local families, "Without it we couldn't provide Christmas presents to all the children."
"People are very generous and we're just very thankful for that," she added.
Donations can also be dropped off at the Sioux Lookout OPP Detachment following the Saturday event.