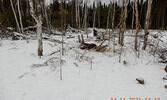 NDMNRF Report:
NDMNRF Conservation Officers Need Help Identifying Bull Moose Poacher
The Ministry of Northern Development, Mines, Natural Resources and Forestry is asking the public's help tracking down the person(s) who shot and left a bull moose to waste.
The moose was shot and killed between November 1-11, 2021, near the Tower Road, within Grand Trunk Pacific - Block 8, off highway 642 between Sioux Lookout and Silver Dollar. The poacher hid the moose under a tree stump and root.
Anyone with information that may help identify the person(s) responsible are asked to call the MNRF Tips line at 1-877-847-7667 or to remain anonymous call Crime Stoppers at 1-800-222-TIPS.
MNDMNRF Conservation Officers continue to patrol and protect our natural resources and would like to remind everyone that respecting seasons, sanctuaries, bag and possession limits we all help ensure our natural resources stay healthy.