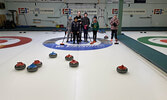 Young learners embracing youth curling program
Jesse Bonello - Staff Writer
Since early January, youth aged 8 to 13 in Sioux Lookout have been learning the sport of curling at the Sioux Lookout Golf & Curling Club. According to curling coach Natalie Popovic, this new and improved program has been going well so far.
"It's new this year. In previous years we've done an after school curling program. This year we called it youth curling, and tried to run it on the evenings and weekends just to change things up, but it's an eight-week program for youth ages 8 to 13," she explained.
"I've been coaching the youth program for a few years and I think, by putting it on Saturdays, we've seen a little bit of a difference. The 14 kids who are signed up and attending this year are there because they want to. It's not like an after school babysitting program and we found in the past that we would get kids that were coming that weren't necessarily interested in curling, but they needed somewhere to be for the hour while their parents were still working. I think, even though the numbers are down slightly, we have young curlers who really want to learn the sport this year, so it's been really enthusiastic from the kids, parents, and coaches who are there," she continued.
When asked about the enthusiastic group of learners, Popovic shared that it was at a similar age when she learned the sport too.
"It's great. I started curling when I was eight myself and my kids did the after school program for years as well, so it's a really great age to teach kids the sport of curling. I get excited about it. We're always working on membership recruitment and exposing new people to the sport of curling. Even if there are a few kids every year that come out interested to learn, it means the future of the club," she said.
This year, the eight-week program is running from Jan. 12 until March 9. In previous years they've run the eight-week program before and after Christmas and Popovic shared that the goal is to try and continue that.
Moving forward, the club is going to be exposing even more youth to the sport when they put on a half day learn to curl program for the upcoming Sioux Lookout Recreation Centre March Break youth camp.
For those hoping to join in on the eight-week program, Popovic suggests keeping an eye out for future programs and events.
"We're more than halfway through now, so it's kind of hard for new kids to join now at this point. I would recommend watching for the program and registration information in the fall and to inquire with the club if there's interest. If there's enough interest, we're always going to run a learn-to-curl program, even if it's just a weekend event. As soon as there's enough people interested we do adult learn-to-curl programs as well," she concluded.
To stay up to date on events and programs, check out the Sioux Lookout Golf & Curling Club Facebook page.