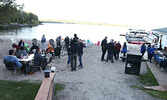 Year End BBQ
Community members and customers of Moosehorn Lodge were invited to a year end customer appreciation BBQ at the lodge last Sunday evening.
Moosehorn Lodge Office Manager Nicole Archer shared, "We wanted to give a thank you to our customers who have been supporting us not only this year, but last year through the pandemic as well. We just wanted to do something to get everybody out and to be social and enjoy this beautiful weather."
The BBQ was set against the backdrop of Pelican Lake and a crackling bonfire completed the scene.
Archer thanked Fresh Market Foods and Sysco Foods for their donation of food for the event, "We're very, very grateful to them for their support through all of this as well, they've been very generous. We also did a contest this year for anyone who came to the marina and fueled up, they were given a ballet for the draw." Contest winners were drawn that evening and were announced in a video on the lodge's Facebook page.