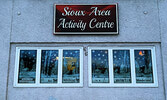 Wintery window
Sioux Area Seniors Activity Centre members Charron Sippola, Sandra Lockhart and Joan Kydd's latest artistic creation on the senior centre's windows depicts a winter landscape and a message asking people, "Are you walking in a winter wonderland?"
Sippola said the message and wintery landscape are meant to encourage people to get outdoors, observing COVID-19 public health measures, and enjoy the beautiful landscapes and outdoor opportunities the Sioux Lookout area has to offer.
"We've got to make the most of it. It is what it is," she said.
The senior centre is temporarily closed during the provincial shutdown.